Home | Upcoming Concerts | Prior Engagements | Goodwill Concerts | Order CD's | Email Us
---
---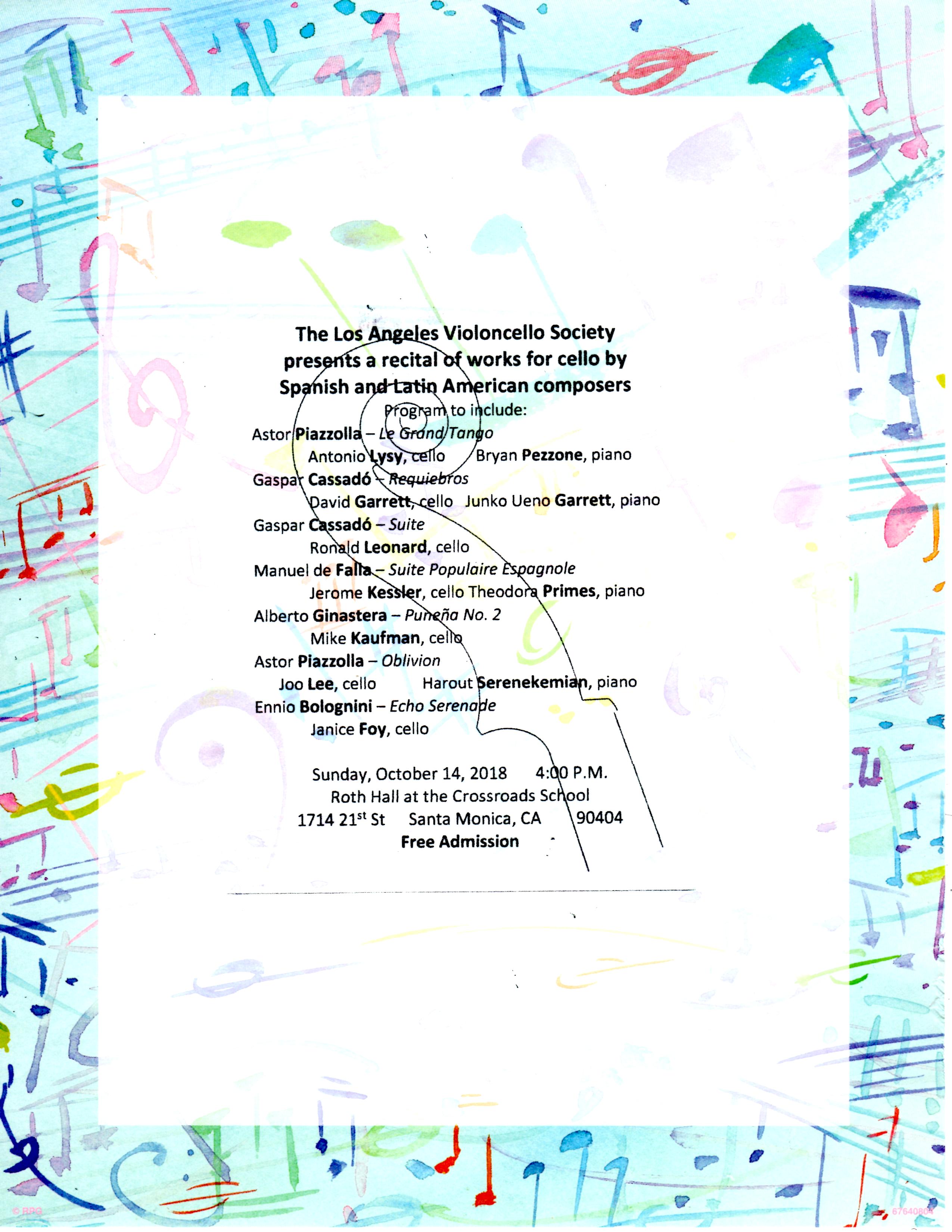 ---
LAVS March 4 2018 Ensemble Program
---
Program Info: Los Angeles Violoncello Society
Janice will perform "Canto" written in 1991 by Dr. Nancy Fierro, which is for 'cello and piano. Dr. Foy will be joined by Ark Sano, pianist. As Nancy said, "One evening I was improvising at the piano just for relaxation when I felt a melody just "drop in" my imagination, so to speak. I immediately began to play it and the piece came as a whole, from beginning to end. It felt like it was a gift since it seemed to just play itself. So I wrote it down first as a piano solo and made some revisions to polish it. Later I started playing it with a 'cellist and decided to arrange it for 'cello and piano. Sometime after that, Arlette Cardenes, conductor of the Culver City Chamber Orchestra, was looking for a piece by a Culver City composer so I decided to arrange it for orchestra. It was performed as an orchestral piece with 'cello solo by the orchestra, and it was also included in a composers' festival concert in Astoria Oregon. Others wanted to play it so I also arranged it for piano trio."
Janice came across the score of the 'cello and piano version that she had saved in her library and thinks she performed it back in the 1990's sometime with Nancy, possibly at Mount St. Mary's College. Due to Janice's losing her mom at 94 years old in March of 2017 and the loss of many friends in the music field, she felt this would be a great piece to dedicate to them, and as well to world peace. On my mom's side, there were several relatives that died in Croatia, as well, so this is a particularly sensitive time and Canto is the perfect piece to play for all of the lost souls. In fact, she likes the subtitle, Song of the Spirits, for Dr. Fierro's Canto. It is also a part of the Daniel Pearl World Peace concerts for October. Janice is happy that Ark Sano, a talented conductor and pianist, is able to be her accompanist for the October 22 performance. She looks forward to doing the solo 'cello with orchestra version sometime in the future with Symphony 47, and other local orchestras.
Nancy Fierro bio: Dr. Fierro is a noted pianist and educator. She received her Doctoral degree in music from the University of Southern California, and a Graduate Certificate in piano, theory, and analysis from the American Conservatory in France, where she studied with Nadia Boulanger. Nancy has traveled widely both nationally and internationally as a concert artist and as a speaker. She is a specialist in women's music and has recorded three commercial albums of piano music by women. She was a pre-concert lecturer for the Los Angeles Philharmonic, the Pasadena Symphony, and the Orange County Pacific Symphony for many years. For five consecutive years she was selected as a Touring Artist by the California Arts Council. Nancy has also composed several works. Recently her Canto for 'cello and orchestra was performed as part of a composers' festival in Astoria Oregon.
---
Dr. Foy's Soulful Strings will play for the Los Angeles Violoncello Society's Free 'Cello Ensemble event February 12, 2017, 4 p.m., at the Crossroads School for Arts and Sciences, 1634 18th St., Santa Monica, CA 90404. They will premiere Steve Chiu's "Taiwanese Ballads Medley for 'Cello Trio and Erhu," featuring Mr. Chiu! Soulful Strings are all members of Symphony 47, which meets Mondays 10:30 - 12:30 pm, at Local 47, in Hollywood. With Dr. Foy is Sesun Park, and Cordis Gilliam, 'cellists. It features 6 famous Taiwanese folksongs: The Moon Represents My Heart, Sijihong, Spring Breeze, Jasmine, Diudiu Copper Aberdeen, and Happy Chinese New Year (Rooster!). Steve is a professional violinist, erhu artist, composer/conductor with degrees in film scoring from the Berklee College of Music when George S. Clinton was the Chair. Steve is known worldwide for his music/performances in TV, film, documentaries and theater, especially in Taiwan and China. Steve's site is stevechiehweichiu.com
---

Copyright © 2000, GCCS, All Rights Reserved