---
The Pan-Asian Pacific Arts and Cultural Festival for Sunday May 21, 2023 will feature lots of diverse Asian and Pacific Islander cultures through their art, music, dance, food, and much more. There will also be a Children's Art Space. I hope to play many folk songs in-between their martial arts, Huta and Haka (New Zealand war dance), and Samori Ninja swordplay. I put together a musical collage of some popular Korean folk songs, and will intersperse Chinese and Japanese folk songs as well, throughout the afternoon. I look forward to seeing everyone soon. Thanks for your support!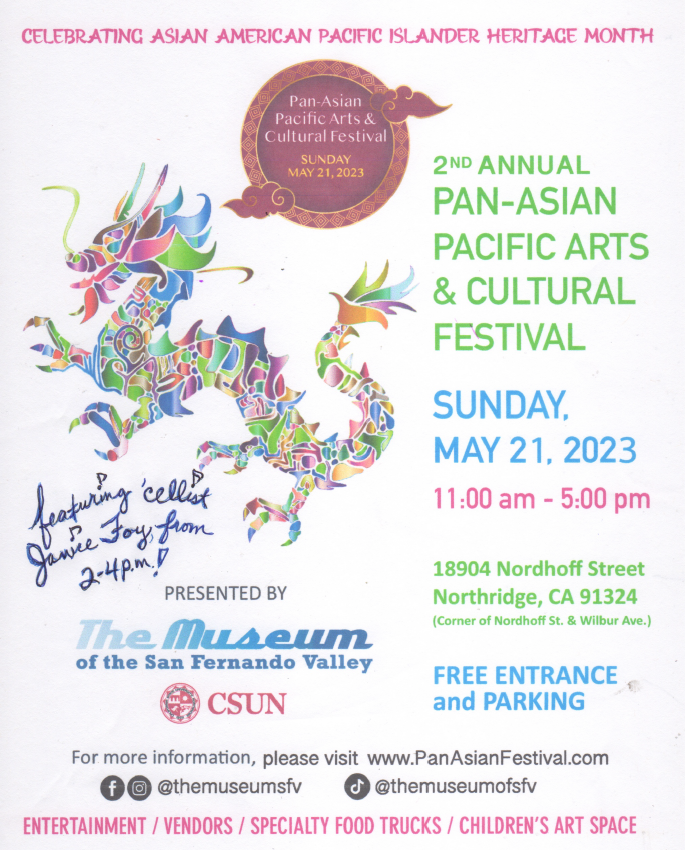 ---
Scenes from Gregor Piatigorsky's Life: Escape to Poland for 2 'Celli by Daniel Harlow Brownfield. Janice Foy and Daniel H. Brownfield, 'cello duet. Performed in the Los Angeles Violoncello 'Cello Ensemble program, Sunday February 23, 2020, 4 pm, at the Crossroads School of Music in Santa Monica.
My talented friend who is a guitarist, composer, and 'cellist embarked on a piece he thought would be finished for this program, however, since I was hearing so many exciting things in the piece it grew into what Daniel Harlow Brownfield decided would be, "Scenes from Gregor Piatigorsky's Life" and this is the first movement entitled, "Escape to Poland". This depicts a young Piatigorsky's escape from Bolshevik, Russia circa 1922, as a 19 year old with his 'cello, while inside a cattle train. Imagine how harrowing an experience that must have been!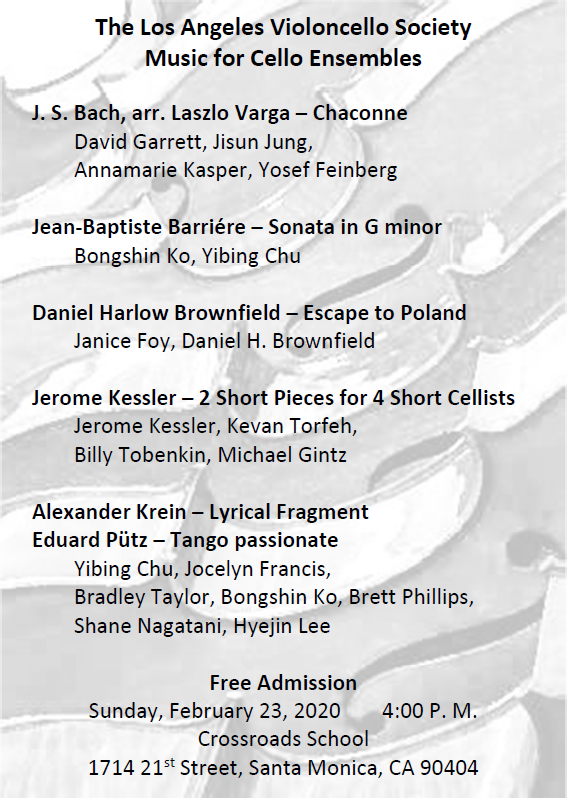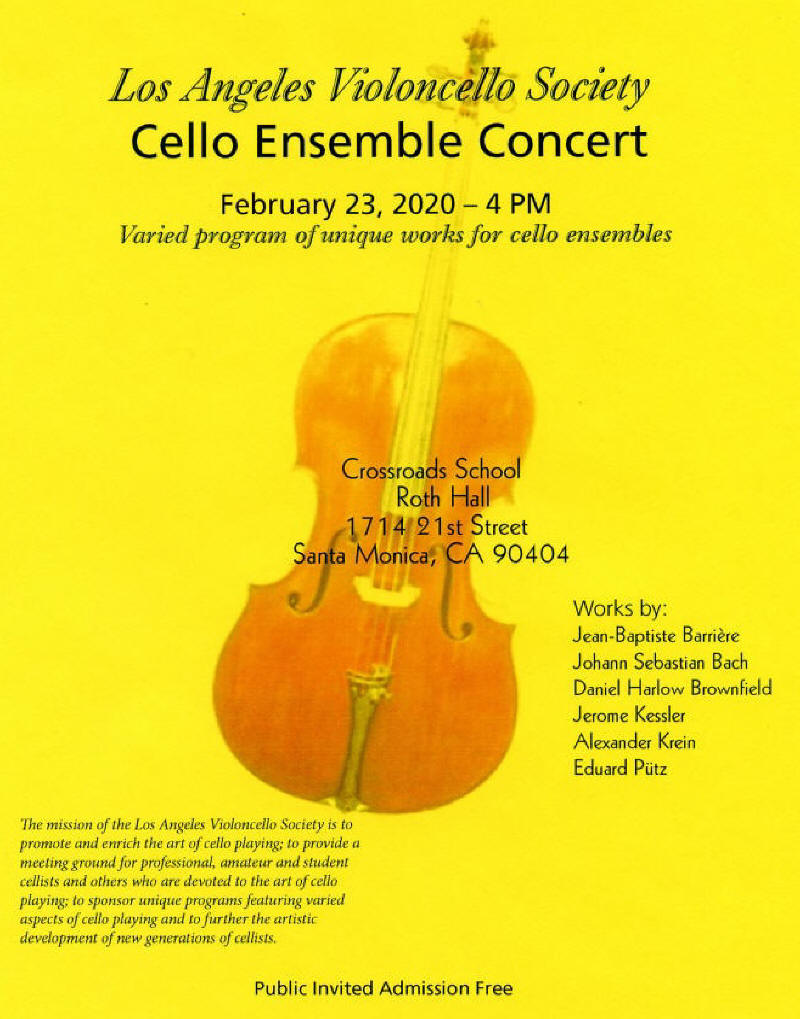 ---
I wish to memorialize my dearly departed friends in the performance of this wonderful piece when I play it with Daniel, for the Los Angeles Violoncello Society's American Composers Recital, Oct. 13, 2019.
---
Janice will be featured playing solo 'cello music at the start of the first hour for the Golden Poppy Awards and Celebration.
GOLDEN POPPY
Awards & Celebration
Sunday May 19, 2019; 4-7pm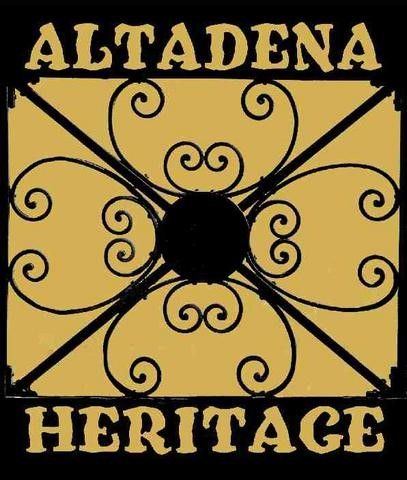 Mark your calendar Sunday, May 19, 4-7 pm for Altadena's ultimate garden party. If it does rain Sunday, Janice will be playing inside! — this year on the wild edge of Millard Canyon, at the home of Tim Cantwell and Stephani Hardy, 832 Millard Canyon Road, Altadena, CA.
This home is in LaVina at the top of Lincoln Avenue. Honor this year's Golden Poppy winners and enjoy music and food with a view to the Owen Brown gravesite, now being protected from development.
Admission: $10 for members. You may join or renew at the door, or online at: altadenaheritage.org. Already a member? Please consider upgrading to Patron, which allows you to purchase up to six tickets at the special member price — a great chance to introduce friends to Altadena Heritage and the important work we do. Non-members $25.
This event is taking place within the LaVina gated community, so all guests names must be registered prior. Please RSVP no later than May 15 to secure your admission and gate entry.
You can RSVP at
altadenaheritage@gmail.com
or 626-296-6933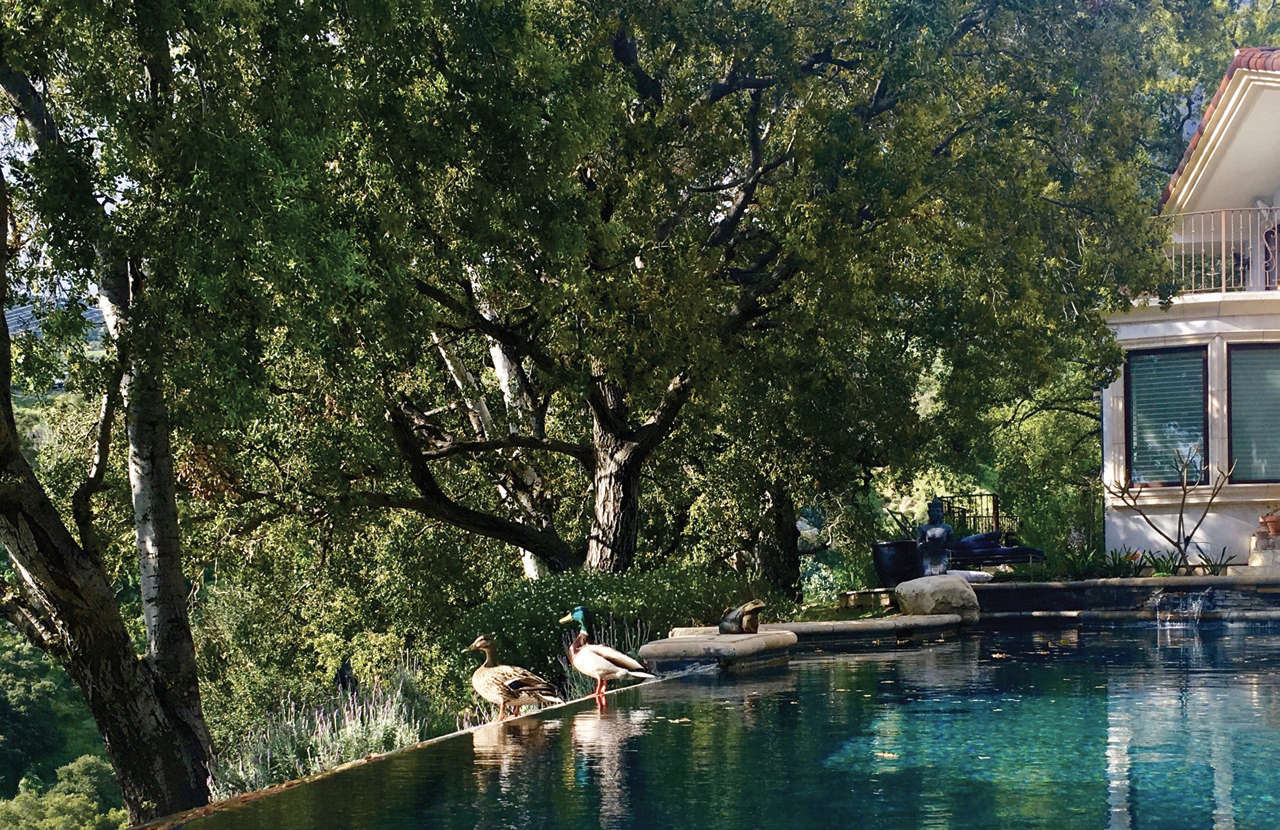 ---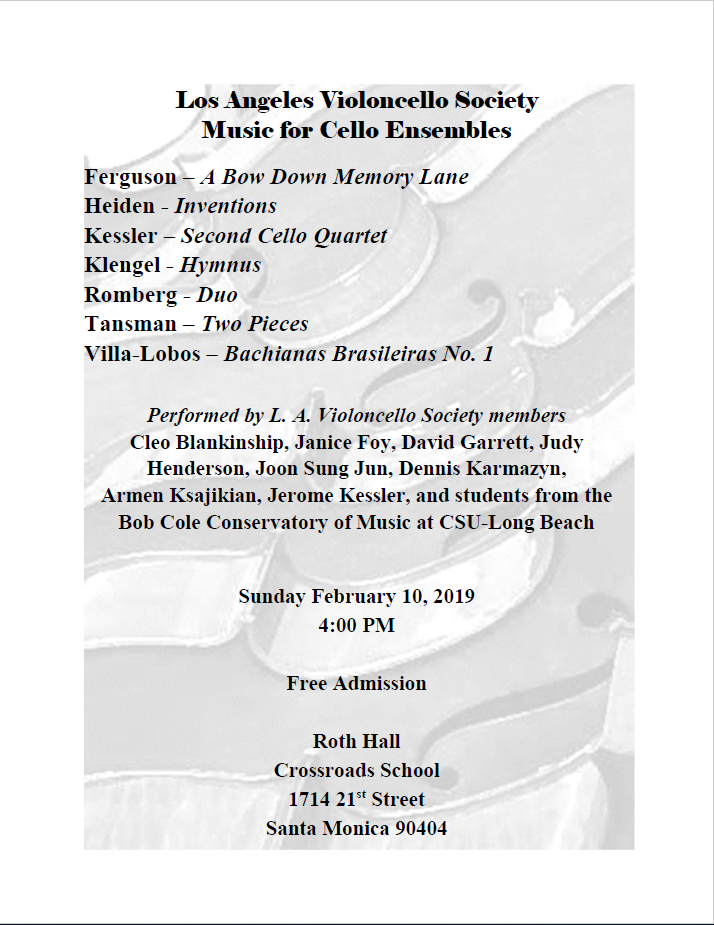 Information about the Performers, etc.
About Charlie Ferguson: I met this wonderful musician while in the parking lot of Local 47, in Burbank. We chatted briefly and I told him to email me when he has a chance. He did and now we have a fabulous arrangement of some great tunes! Now a little bit about Charlie: He has been playing music for 25 years, but only professionally for about 10 years. He had a lot of home training and experience in his childhood because he came from a musical family. His father is a guitar player and his grandfather was a composer and pianist, who passed on 8 years ago.
Charlie plays many different instruments including: piano and all manner of keyboards; brass instruments such as valve trombone/baritone horn/trumpet; guitars and electric bass, and some tuned/untuned percussion instruments.
He also composes and arranges for many different bands including jazz, rock, and orchestral/classical music (plus everything in between). He has recorded two albums of his own original jazz tunes that are yet to be released (hopefully next year).
A little bit about my contact with Cleo Blankinship. I met her when I was hired to play with the Masters University Orchestra for the holidays, under the talented Maestro Ben Mason. It turns out that Cleo is "self taught" - that was a first for me since I had never met anyone with type of background. She studies now with Janet Crouch-Shulman as a student at the Masters University.
About "A Bow Down Memory Lane" arranged by Charlie Ferguson
Janice submitted her favorite golden oldies plus her current modern fave tune, Vida La Vida, by Coldplay, to Charlie to arrange for a 'cello trio. After 2 rehearsals with her 'cello II, Janice found out that her partner would not be able to play the concert due to work that would actually start on that Sunday, Feb. 10 So . . . Janice had to quickly let Charlie know that she now had a 'cello duo. Charlie reacted so fast to that emergency situation that Janice received the new duo form in a matter of days. Janice then suggested it may be cool to add some "spice" to the mix with Charlie playing some small percussive instruments. The medley for her Soulful Spirits 'Cello Duo is, "A Bow Down Memory Lane" which includes: It Don't Mean a Thing If It Ain't Got That Swing, Besame Mucho, Tangerine, Unforgettable, and Viva La Viva.
---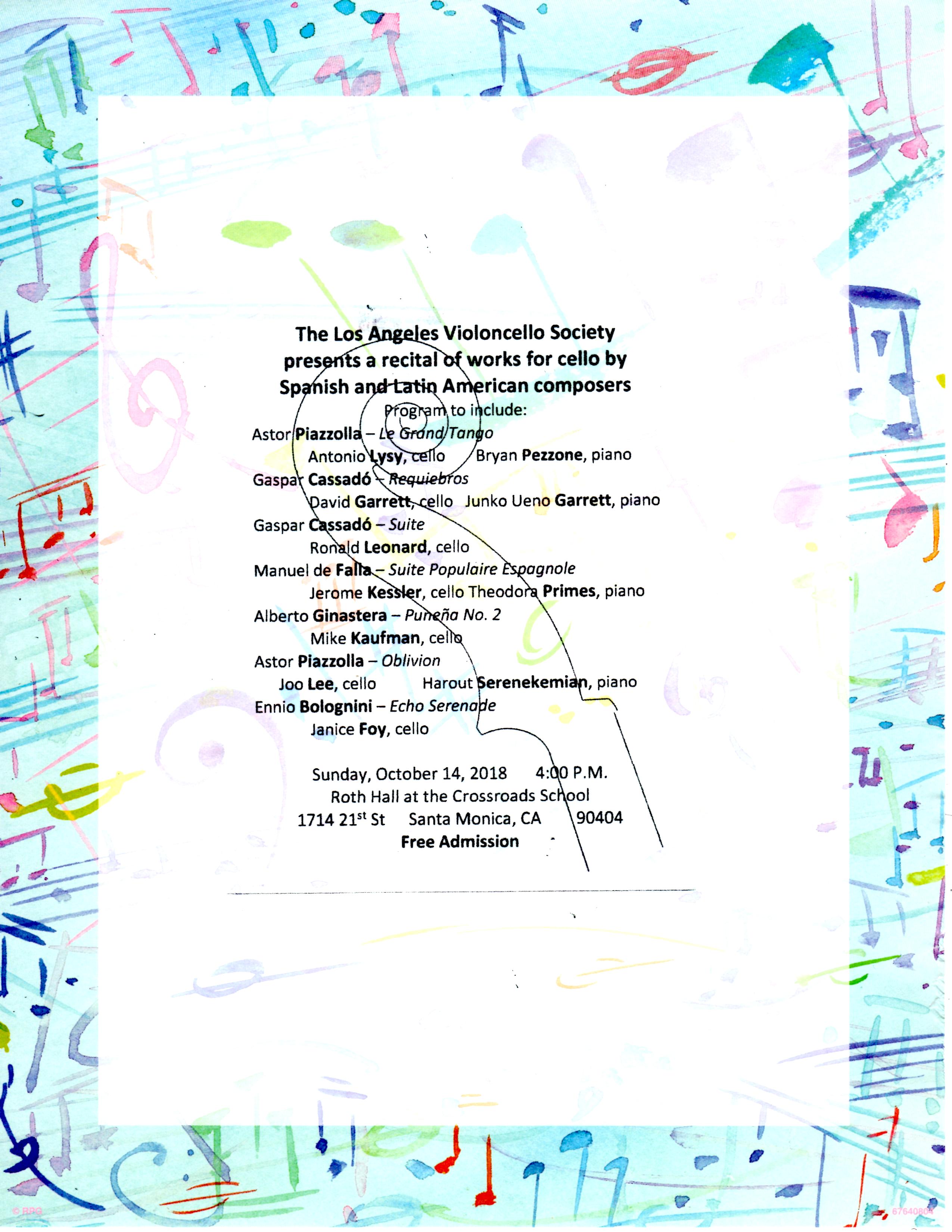 ---
LAVS March 4 2018 Ensemble Program
---
Program Info: Los Angeles Violoncello Society
Janice will perform "Canto" written in 1991 by Dr. Nancy Fierro, which is for 'cello and piano. Dr. Foy will be joined by Ark Sano, pianist. As Nancy said, "One evening I was improvising at the piano just for relaxation when I felt a melody just "drop in" my imagination, so to speak. I immediately began to play it and the piece came as a whole, from beginning to end. It felt like it was a gift since it seemed to just play itself. So I wrote it down first as a piano solo and made some revisions to polish it. Later I started playing it with a 'cellist and decided to arrange it for 'cello and piano. Sometime after that, Arlette Cardenes, conductor of the Culver City Chamber Orchestra, was looking for a piece by a Culver City composer so I decided to arrange it for orchestra. It was performed as an orchestral piece with 'cello solo by the orchestra, and it was also included in a composers' festival concert in Astoria Oregon. Others wanted to play it so I also arranged it for piano trio."
Janice came across the score of the 'cello and piano version that she had saved in her library and thinks she performed it back in the 1990's sometime with Nancy, possibly at Mount St. Mary's College. Due to Janice's losing her mom at 94 years old in March of 2017 and the loss of many friends in the music field, she felt this would be a great piece to dedicate to them, and as well to world peace. On my mom's side, there were several relatives that died in Croatia, as well, so this is a particularly sensitive time and Canto is the perfect piece to play for all of the lost souls. In fact, she likes the subtitle, Song of the Spirits, for Dr. Fierro's Canto. It is also a part of the Daniel Pearl World Peace concerts for October. Janice is happy that Ark Sano, a talented conductor and pianist, is able to be her accompanist for the October 22 performance. She looks forward to doing the solo 'cello with orchestra version sometime in the future with Symphony 47, and other local orchestras.
Nancy Fierro bio: Dr. Fierro is a noted pianist and educator. She received her Doctoral degree in music from the University of Southern California, and a Graduate Certificate in piano, theory, and analysis from the American Conservatory in France, where she studied with Nadia Boulanger. Nancy has traveled widely both nationally and internationally as a concert artist and as a speaker. She is a specialist in women's music and has recorded three commercial albums of piano music by women. She was a pre-concert lecturer for the Los Angeles Philharmonic, the Pasadena Symphony, and the Orange County Pacific Symphony for many years. For five consecutive years she was selected as a Touring Artist by the California Arts Council. Nancy has also composed several works. Recently her Canto for 'cello and orchestra was performed as part of a composers' festival in Astoria Oregon.
---
Dr. Foy's Soulful Strings will play for the Los Angeles Violoncello Society's Free 'Cello Ensemble event February 12, 2017, 4 p.m., at the Crossroads School for Arts and Sciences, 1634 18th St., Santa Monica, CA 90404. They will premiere Steve Chiu's "Taiwanese Ballads Medley for 'Cello Trio and Erhu," featuring Mr. Chiu! Soulful Strings are all members of Symphony 47, which meets Mondays 10:30 - 12:30 pm, at Local 47, in Hollywood. With Dr. Foy is Sesun Park, and Cordis Gilliam, 'cellists. It features 6 famous Taiwanese folksongs: The Moon Represents My Heart, Sijihong, Spring Breeze, Jasmine, Diudiu Copper Aberdeen, and Happy Chinese New Year (Rooster!). Steve is a professional violinist, erhu artist, composer/conductor with degrees in film scoring from the Berklee College of Music when George S. Clinton was the Chair. Steve is known worldwide for his music/performances in TV, film, documentaries and theater, especially in Taiwan and China. Steve's site is stevechiehweichiu.com
---

Copyright © 2000, GCCS, All Rights Reserved