Booking and contact information please e-mail us.
---
Here is Janice playing for some of the top employees of University Credit Union as a "thank-you" to David Moreno, the Branch Manager, for bringing back the coffee! This event was in early December of 2019 - David became their new Branch Manager and Janice found out he loved coffee enough to bring it back to the University Credit Union after having been without it for at least 2 years.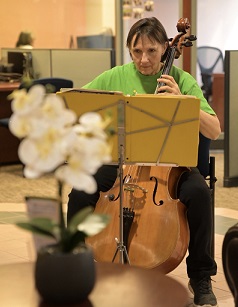 ---
Performing at Maria Elena Alberici's 2019 Xmas Party for her Kaiser Permanente Tai Chi and Yoga students, in Panorama City.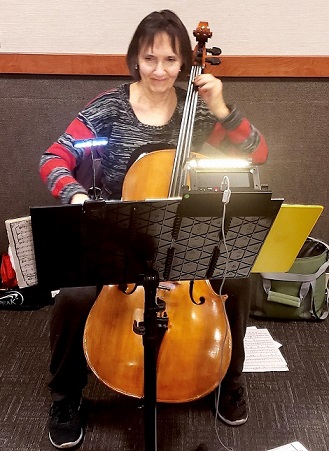 ---
---
Solo 'cello version (the original version) of Ennio Bolognini's "Echo Serenade"
---
LAVS concert
Soulful Spirits Trio perform Tango: Por Una Cabeza (1935), by Carlos Gardel, arranged by Diego Collatti. Performers: 'Cello Duo - Janice Foy and Gvantsa Matiashvili, with dancer Jani Quintero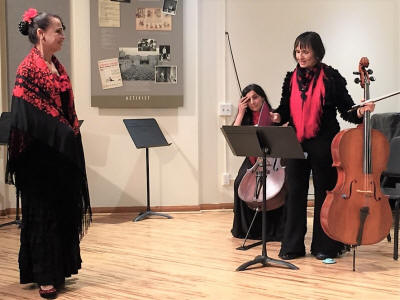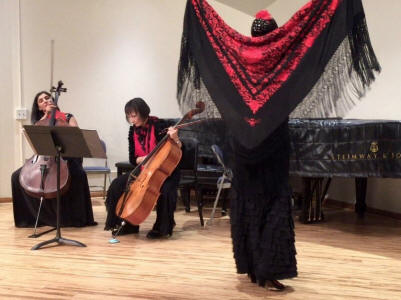 (Event: Los Angeles Violoncello Society 'Cello Ensemble Concert, March 4, 2018)

---

Patriot Day Tamsen Beseke violin, with her husband Ed Delgado, David Layne, the Music Director of First Presbyterian Church of Monrovia, Yvette Devereaux violin, Ljubovic Velickovic violin/conductor, and 90 years old conductor Chris Story, quickly organized an outstanding orchestra for this inaugural concert to remember the events of 9/11, and to celebrate America. Tamsen had a strong team of core musicians including Symphony 47 members: Johnny Malone Fr. horn, Karolyn Berkman percussion, David Berzinsky percussion, Keith Scripps percussion, Dr. Janice Foy 'cello, Cordis Gilliam 'cello, Cathy Weaver 'cello, Sebastian Mendez-Guevara 'cello, Steve Chiu violin, LaVern Antoine violin, Shirley Tolentino violin, and Sean Lyons viola. In addition, 2 works by Dr. David Stern will be premiered! All of this was prepared in a matter of a few weeks, with everyone donating their time/gracious talents to put this on for the memory of those who have died. A presentation by the local Monrovia police and fire department, will also be given. The 2 Maestros will be David Layne and Yvette Devereaux.
---
'Cellissimo! L.A., founded by 'Cellist, Dr. Janice Foy will perform with legendary Soprano, Hope Foye at the
Mayme A. Clayton Library & Museum - 4130 Overland Avenue, Culver City, CA 90230, this coming
Saturday August 24, 2013 4 p.m. Admission and Parking are FREE
Hope Foye, the once blacklisted soprano during the McCarthy era, had to leave the United States to study her craft and to make a career. Hope turns 92 on September 2, 2013, so this event will pay tribute and help to celebrate this unique American's legacy, known for her glorious voice.
Do not miss Hope Foye with 'Cellissimo! L.A. performing Aria from Heitor Villa Lobos' Bachianas Brasileiras #5, for Soprano & 'Cello Octet. Members of 'Cellissimo! L.A.: Dr. Janice Foy, April Guthrie, Pierre Derycz, Beth Park, Saundra Sonderling, Jennifer Li, Aniela Perry, & Kathleen Hougesen
Elmer Hopper, guitarist, will accompany Hope on other musical gems
Please call 310-202-1647 or e-mail HYPERLINK mail to: info@claytonmuseum.org to RSVP your attendance
or to obtain additional information.
---
Dr. Janice Foy, 'cellist and flamenco dancer Jani Quintero will present a discussion/performance of their new duo, Flamenco Fire! at Azusa Pacific University, Saturday February 19 at 11 am. in the Warren Music Center, at 11:00 am.
One of the greatest projects I did more recently was working with a terrific flamenco dancer named Jani Quintero! It was musically rewarding and gives one hope knowing that the creative process in the arts brings human beings together in a way that no other process is capable of doing perhaps except for surgery, where nurses and doctors must be in harmony for a successful outcome. Flamenco Fire! will discuss how the "blueprint" for choreography to a solo 'cello piece called, "Echo Serenade", by Argentinian 'cellist Ennio Bolognini, came together and eventually led to other collaborative endeavors. I will highlight 'cello techniques in "Echo Serenade" such as left hand pizzicato and rolled chords which emulate the guitar. Also, Bolognini's effectively placed rhythmic patterns performed collegno battuto (bowstick) coupled with dramatic mood changes effectively conjure up the presence of a flamenco dancer.
This will lead into Jani's discussion on how she worked through a successful choreography. All this technique is great, but without a collective "duende" (heart), or a passionate unfettered spontaneous style of performance, the tradition of flamenco cante would be lost. We concur that the art of Flamenco lives on only when the artists go beyond technique and perform as though creating "on the spot"! (Even surgeons sometimes go above and beyond to save a life). We will conclude with our performance of "Echo Serenade", a 4.5 minute piece.
Society for Ethnomusicology Tribute to 'Cellist Ennio Bolognini - Renaissance Man
---
The West Los Angeles Symphony Presents "The Russians Are Coming, The Russians Are Coming"
Featuring the Grammy winning Sir Angel Romero, Conductor with the West Los Angeles Symphony Celebrating its 19th Anniversary and the Los Angeles orchestral debut ofsensational young piano virtuoso, Ms. Di Wu In a Free Concert!!

Come to hear the exciting music of Rachmaninoff, Tchaikovsky, and Kalinnikov

Royce Hall - U.C.L.A.
Sunday March 27, 2011 7 p.m.
340 Royce Drive, Los Angeles, CA 90095
The exciting piano sensation Ms. Di Wu will make her Los Angeles orchestral debut in Sergei Rachmininoff's popular "Rhapsody on a Theme of Paganini", which he wrote in 1934. Following the excitement of this work will be the dramatic duet from the Opera "Queen of Spades" written in 1890 by Pyotr Tchaikovsky, which he based on Alexandr Pushkin's short story, "Queen of Spades".

The concert will conclude with a not so known composer who unfortunately, had a very short life. It was the great Arturo Toscanini in a rare 1940's broadcast who made famous Vasily Kalinnikov's "Symphony No.1 in G minor". This piece, written between 1894-95, has made a comeback with it's very characteristic Russian themes. What a perfect conclusion to this Russian extravaganza - can we say, the Russians have left . . . the Russians have left!?! No, their spirit lives on and on and on!

PARKING: LOT 5
Primary parking for Royce Hall is available in Parking Structure 5 off of Sunset and Royce Dr. Parking is $10 CASH ONLY. Handicapped parking is $3.
From Sunset Blvd., enter the north side of campus at Royce Dr. (between Westwood Blvd. and Hilgard Ave.). Proceed straight ahead to Parking Structure 5. From Structure 5, cross the footbridge to the back entrance of Royce Hall. Handicapped Accessible parking spaces are located on level 4 of this parking structure. For oversized vehicles, please use level 6.
ALTERNATE PARKING IS AVAILABLE - Lot 5 is not the only UCLA parking lot that you can use when visiting Royce Hall. Alternate parking is available and encouraged in Parking Structures 3 & 4. Both are accessible and within reasonable proximity to the hall, usually result in faster ingress and egress and allow you to enjoy the scenic beauty of the UCLA campus. Please allow an additional 5 minutes to walk from these structures to Royce Hall.
LOT 4
Parking Structure 4 may be accessed via Sunset Blvd and Westwood Plaza. This parking structure is underground. Credit Cards are accepted in Parking Structure 4 - this is the only lot that will accept credit card payments within the proximity of Royce Hall. NOTE: Parking in Structure 4 will require that you walk up Janss Steps (87 steps) to get to Royce Hall.
LOT 3
Parking Structure 3 may be accessed via Hilgard Ave and Sunset Blvd. This parking structure may not always be staffed. If the parking structure is not staffed, you will need to use the Pay-By-Space parking which is available in the NE corner.
---
VENTURA BAROQUE
Lou Pruneda, Music Director
presents
The Baroque Chamber Players at Heritage Square Chapel
All J.S. Bach Program!!
Sunday January 23, 2011 4:30 p.m.
featuring
Sharon Cooper, Ruthie Kay & Barb Poehls, solo violins
Karen Long & Tom Turner, solo violas
Liz Watts, Cyndi Hall & Will Duke, ripieno violins
Dr. Janice Foy & Dr. Stephen Custer, 'celli
Dr. Stephen Custer & Pam de Almeida, viola da gamba I & II
Mark Kamradt, string bass
James Gilmore & Cherie Moraga, oboe I & II
Mark Holmstrom, cembalo
Cavit C. Monezis, bassoon
Featured Works:
Orchestral Suite #1
Brandenburg Concerto #6
Concerto for Three Violins
Heritage Square Chapel Hall
731 South A Street
Oxnard, CA
Suggested $20 Donation
Free parking
For further information contact 805-827-8722
email: southdesigns@yahoo.com
---
Southern California Philharmonic Orchestra
presents
Special Sunday February 13, '11 7 p.m. concert
Featuring Dr. Jaikung Lee, Maestro
with
Soloists: Kevin Youk, tenor
Ji Yun Yi Na, flute
Yuli Kwon, oboe
Dr. Janice Foy, 'cello
Mike Rotman, trumpet
Music by: Rossini, Donizetti, Cardillo, Morricone, Shostakovich, Suppe,
Tschaikovsky, Beethoven, J. Strauss and more!
Wilshire Ebell Theater
4401 W. 8th St. Los Angeles, CA
Ticket prices: $100, $50 and $30
Free parking!
For ticket inquiry (students), Contact: 213-365-2244
Visit:
www.scalphil.org
---
Please join us for a reception to celebrate 50 years of Ethnomusicology at UCLA
Parking - $15 (suggestion: carpool!)
Friday, November 12, 2010 5:00pm – 7:00pm
(it is best to carpool to the event as it is $15 per car to park. It is only valet at the Hotel)
Wilshire Grand Hotel – Los Angeles Room
930 Wilshire Boulevard Los Angeles, CA 90017 (213) 688-7777
5 pm: Alumni Reception

5:45pm – 6:15pm: Program featuring
Remarks by
• Jacqueline Codgell DjeDje, Chair, Dept of Ethnomusicology
• Made Hood, Lecturer in Ethnomusicology, Monash Univ.
• Anne Rasmussen, Asso. Prof. of Ethnomusicology, The College of William and Mary
• Christopher Waterman, Dean, UCLA School of Arts and Architecture
• Vincent M. Cummings, Asso. Director of Development, School of the Arts and Architecture

Musical Program
Performance by the UCLA Chinese Music Ensemble, under the direction of Professor Chi Li Program
• "Bu Bu Gao" • "Han Tian Lei" • "Xi Yang Yang"
Performers: Ryan Baca (dizi); Tina Chen (erhu and gaohu); Sam Lieberstein (yangqin); Kevin Willoughby (sanxian)

Presentation and musical performance by Janice Foy ('cello) with Jani Quintero (flamenco dancer) Program
• Korean folksong, "I Want to Live on a Clear Blue Mountain," by Chung San e Sallira for solo 'cello
• "Slavic Gypsy Medley" arranged for solo 'cello by Janice Foy
• "Flamenco Fire!" duo performing "Echo Serenade" for solo 'cello by Ennio Bolognini, featuring Janice Foy ('cello) and Jani Quintero (flamenco dancer)

Biographies: Called a "gem of a 'cello coach" by actor Samuel L. Jackson, Montana-born 'cellist Janice Foy, Ph.D., champions American music globally; appeared in a World Peace Concert with Grammy artist Herbie Hancock as soloist/with her New American Quartet; & gave West Coast 'cello premieres with pianist Zita Carno. Her Ph.D. research, "The Croatian Sacred Musical Tradition in Los Angeles" is considered seminal by Croatian scholars & her "Mozart Effect" research received an NEH Affiliate Grant. In 1997 she received Special Commendation from L.A. City Council "for her musical contributions"; afterschool music programs; principal 'cello positions; hospital visits; "special needs" concerts; and adjunct professorships. She coordinated Brand Library's music; is the featured 'cellist in Glendale Forest Lawn's Death/Transfiguration presentation; and her quartet debuted in Canada's 2009 PBS Documentary "Empire of the Word." She will soon collaborate with UCLA's award-winning doctoral Maestro Jorge Uzcategui, in his BASO project.

Chi Li is a highly accomplished performing artist on the erhu, the Chinese two-string bowed fiddle. After graduating from the Conservatory of Chinese Music in 1982, she served as erhu soloist for the National Traditional Orchestra of China (the most renowned orchestra of Chinese musical instruments). In the 1980s, she frequently performed in presidential concerts in Beijing. In the United States she has been featured in concerts held at prestigious venues such as Madison Square Garden, the Lincoln Center, the Ronald Reagan Building in Washington DC, the Waldorf Astoria Hotel in New York and the Jacob Javits Convention Center in New York. She is co-founder of the American Chinese Performing Arts Institute, advisor to the Los Angeles Chinese Music Ensemble, and director of the San Fernando Valley Chinese Music Ensemble.

Jani Quintero began her career in television as an actress appearing in soap operas and commercials until she was introduced to Flamenco in 1987. Her training is from legendary Flamenco dancer Yolanda Arroyo, and for 20 years Jani has been performing on stage with Yolanda and Paco Arroyo's Flamenco troupes, "Mosaico Andaluz" and "Caminos De España"; tablaos/festivals including Spanish cultural organizations, Pena Andaluza en California; Casa De España; and Channel Islands Ballet Company. Mrs. Quintero and Dr. Foy debuted Flamenco Fire! at a Daniel Pearl World Music Days 2006 event. In 2007, Mrs. Quintero performed at the Las Vegas Performing Arts Center with guitarist Paco Arroyo and his Flamenco Ensemble. She choreographed for the Bilingual Foundation of the Arts 2010 production "Blood Wedding" and was featured as La Luna. Mrs. Quintero teaches group flamenco dance through Glendale Community College and CSE, and gives private lessons in dance, castanets, mantón, and fan.

This reception is part of our Alumni Events commemorating 50 years of ethnomusicology at UCLA, Nov. 9-14, 2010, including the Alumni Symposium and Dinner on Nov. 9, 2010.
For more information, visit: www.ethnomusic.ucla.edu/celebrating 50 years or call: 310-825-5947.

To contribute to the 50 for 50 Scholarship Fund, please visit: www.arts.ucla.edu/giving and indicate "50 for 50" in the comment section.
---
LOS ANGELES PUBLIC LIBRARY - DURANT BRANCH 7140 Sunset Boulevard. Los Angeles, CA 90046
AND/color>
THE LIANA COHEN FOUNDATION
PRESENT THE MONTHLY LIANA COHEN Free! CONCERT SERIES
SATURDAY AUGUST 28, 2010 3:00 – 5:00 PM
Bring your friends to hear the talents of young musicians and professionals to this great event at the Durant Library. Featured with these great budding artists will be the Fantastico Chamber Players - a new ensemble that focuses on the familiar as well as the unknown music, from around the globe. Performing on this program will be: Min Jung Choi, Flute; Alto Ocarina/Rangoli Ocarina Dr. Jemma Chung, Clarinet Dr. Janice Foy, 'Cello/Piano
Free Parking at the Library.
The Liana Cohen Foundation is a non-profit organization committed to the betterment of music, arts and dance education through presentation of performance, competition in Music, Dance and Arts exhibitions. Two statewide music competitions are held annually to encourage and inspire young musicians and artists in their pursuit of music and arts education.
For the past fifteen years, the Foundation has also presented competition winners in two concerts annually to honor the memory of pianist Liana Cohen who lost her life to a drunk driver at 18 years old. The Liana Cohen Foundation offers free monthly concerts on the last Saturday of each month to the Los Angeles community at the Los Angeles Public Library Durant Branch. Dr. Rosemary H. Cohen, Founder and Director of the Liana Cohen Foundation, and her family have created this unique program to honor the memory of their beloved Liana and those who are victims of drunk drivers as well as survivors of drunk driving. phone: 310-552-3518 www.lianacohen.org
The repertoire to be performed by Fantastico Chamber Players in their short program (a break from the young artists who will also be performing) is the following:
Intermezzo for Clarinet and 'Cello by Zita Carno (formerly the pianist of the L.A. Philharmonic)
Badinerie for Flute and Piano by J.S. Bach; Arirang (old Korean folksong) for solo Alto Ocarina
Doraji (Wildflower, also an old Korean folksong) for Rangoli Ocarina & ad lib 'Cello accompaniment
Echo Serenade for solo 'Cello by Ennio Bolognini (Argentinian 'Cellist)
Flight of the Bumble Bee by Rimski-Korsakov for Clarinet and Piano. Concluding with/color>;
Southern Country Village by Dong Hwa Kim (also Korean!) for Clarinet, Flute/color> and Piano

---
Southern Californa Philharmonic Orch 2010.pdf
---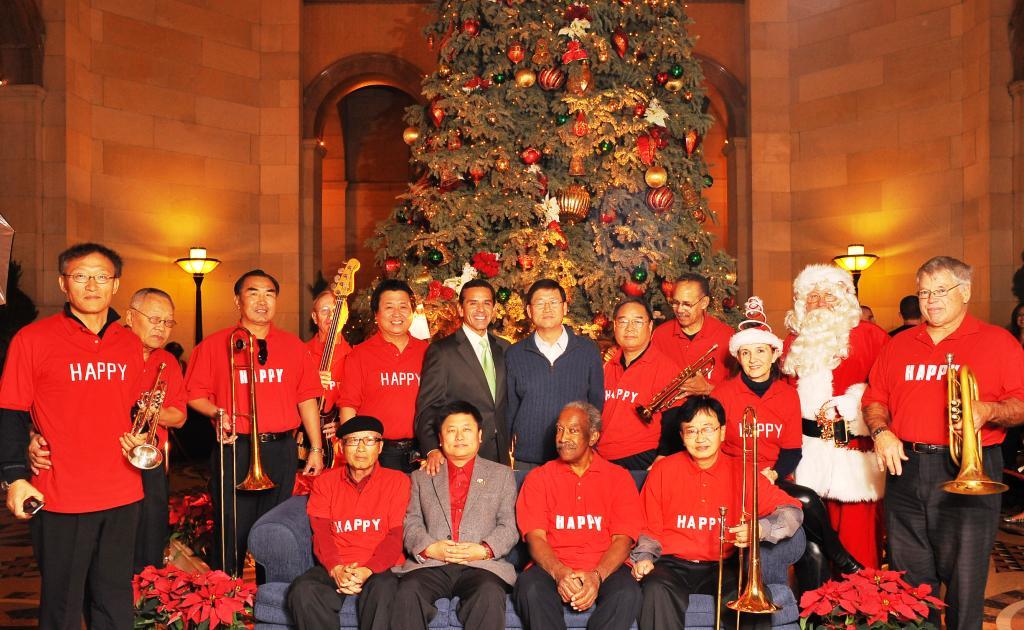 The Happy Jazz Band: Founded by Happy Chong and directed by Douglas Autrey with the Los Angeles Mayor Antonio Villaragosa following their debut performance as featured artists for the City Hall Tree Lighting Ceremony, December 2009. Doc Foy plays piano with them and was told the Santa pictured next to her was envious of her hat!!

Upcoming event:

Sunday March 28th at Royce Hall, UCLA, 7 pm will be a fun and exciting program with the West L.A. Symphony under my favorite Maestro, Sir Angel Romero!!! Dr. Janice Foy sits Principal 'Cello and this year we have a new contractor who brought in new musicians (including a former student of mine!) so it ought to be even more exciting than last year!! Featured on the program will be Berlioz's Rob Roy Overture, Kabalevsky's Comedians' Suite, and two concerti - Francesco Boieldieu Harp Concerto and Kevin Puts Marimba Concerto! Parking on campus is $10 but the concert is FREE!!
---
Ventura Baroque
---
SGI-USA presents The American Victory Orchestra, Conducted by the dynamic Patrick Scott!! In celebration of Daniel Pearl World Music Days join us Sunday, October 25, 2009 3:00 p.m. at the beautiful Buddhist Center in the World Peace Ikeda Auditorium - 525 Wilshire Blvd., Santa Monica, 90401.

From 'Hot Classical to Cool Jazz II' - Come and enjoy the many talents featured in this concert to promote world peace!! Special guest artist is Saxophonist Bennie Maupin featuring Sopranos Alise Richel & Connie Smith, as a Duo! Enjoy the youthful Shalhevet Choir, with their brilliant Director Joelle Keene, and Miri Hunter Haruach and Realis.

Music to be performed will highlight these composers:
A. Dvorak - A. Vivaldi - E. Grieg - G. Rossini - L. Schifrin - H. Villa-Lobos - Miri Hunter & Susan Peloza (local composers)


We will feature not only European based traditions but also World Music and Jazz.

Admission is Free!!

Co-sponsored by the International Committee of Artists for Peace (ICAP) Free parking is available in the structure behind 7-11 on Wilshire and 7th Streets. Join us in this celebration of peace and understanding through the universal language of music, song, and dance. Enjoy a Lobby Exhibit: 'Seeds of Change: The Earth Charter and Human Potential'

For more information call 818-601-8273 or 818-591-0679 avorchestra@earthlink.net www.DanielPearl.org www.music-days.org www.icapeace.org
---
The Los Angeles Violoncello Society presents "Music of the Western Hemisphere", Sunday November 1, 2009 - 4 pm A FREE program!!!

Come join 'cello enthusiasts, amateurs and professionals alike to hear works from this part of the globe performed by 'cellists in solo or with other instruments! Please invite all your friends. You don't have to even play the 'cello to come!!!!

One of the performances at this event will include 'cellist Dr. Janice Foy and clarinetist William Powell, (professor at California Institute of the Arts), will perform a specially written work for them by the famed and former L.A. Philharmonic pianist, Zita Carno. Zita, William and Janice were Trio of the Americas back in the 1990's. They performed a concert, including the Duo Intermezzo piece, for their 1993 Caltech Dabney Lounge program. Since that time Zita retired and moved to Florida. She is missed! Truly a one-of-a-kind pianist and individual.

The venue will be in Roth Hall at the Crossroads School located at 1714 21st Street in Santa Monica, 90404.

The LAVS, Los Angeles Violoncello Society promotes young 'cellists through their Scholarship auditions held yearly followed by a recital performed by all the winners.

Check the LAVS website at www.lacello.org for more information and to see upcoming events!! Why not join now? There are student rates as well as regular rates. We have rates to fit every type of budget!!
---
Westminster Gardens presents The New American Quartet in their Sixteenth Year Anniversary Concert! Wednesday January 6, 2010 3:30 p.m. The concert will take place in Packard Hall at Westminster Gardens. Bring all your friends to this special FREE program of classical GREATS!

Leola Wagner & Sharon Cooper, Violinists; Cliff Goodrich, Violist; and Janice Foy, Ph.D., 'Cellist & Founder will perform: Eine Kleine Nachtmusik by Wolfgang A. Mozart; Antonin Dvorak's American Quartet; 2 works by Michal Connor and a new Tango composed for the quartet by David Schubach

Westminster Gardens - 1420 Santo Domingo Ave. Duarte, CA 91010
Program Flyer

Please email Dr. Janice Foy if you have any questions: info@bravo-la.com
Visit the CD section of this site to hear sound clips and perhaps email to purchase a CD! There is something for everyone in our repertoire!
---
The Consulate General of the Republic of Poland In Los Angeles and The Polish American Congress of Southern California are honored to invite you to attend Holy Mass to commemorate the 70th Anniversary Of the Outbreak of WWII.
Sunday, September 6, 2009 - 3:30 p.m.

Cathedral of Our Lady of the Angels
555 W. Temple Street Los Angeles, California 90012
Tel: (213) 680-5200 Cathedral parking - $ 5.00

Principal Celebrant - Auxiliary Bishop Oscar Solis
Vicar for the Archdiocese Office of Ethnic Ministry

For further information please contact

Ms. Małgarzata Cup Consul for Culture, Press, Education and the Polish community - Consulate General of the Republic of Poland in Los Angeles
Malgorzata.cup@msz.gov.pl

Mr. Andrew Ettinger, President
Polish American Congress of Southern California
323/240-8525 Fax 323/464-6444
Featuring 'cellist Dr. Janice Foy, with pianist Szymon Grab plus vocal quartet. Dr. Foy will perform Frederic Chopin's Nocturne in C sharp minor, arranged by Marek Zebrowski, ASCAP; the 'Cantique de Jean Racine', by Gabriel Faure plus a premiere of a new work for piano and 'cello by Michal Connor called, 'That Heavenly Country'. There is a fee to park in their structure but the Mass is free admission, of course! The Cathedral is just a few blocks south of the Music Center.
---
--This program has been cancelled--
AUGUST 28, '09 6 - 9 pm "Jubilee Inner City Youth Performing Arts Fundraising Concert" - African-American Museum CONTACT: Trudy A. Magee 323 - 455 - 1199

Jubilee Conert Series present Dancing with the LesislaSTARS! Dont miss an evening to meet and greet your community Legislature through music and dance. Meet your community leaders - enjoy great music and have a bite to eat, too!
This great fundraising concert will be on Friday August 28 6 - 9 pm to help the Jubilee Youth Summer program, a 501 c (3) charity organization.
Admission is $25 and the event will be at the California African-American Museum, 600 State Drive, Los Angeles, CA 213-744-7535. Parking is available in the lots nearby.
The event will feature the World Peace Orchestra Jazz Combo under Mr. Bill Skinner; talented young artists going through the Jubilee program at the Sheriff's Youth Activity Center in So. Central L.A. will join our professional artists in performance; the talents of Jubilee's Assistant Director, 'cellist Dr. Janice Foy along with flamenco dancer Jani Quintero, will offer a rendition of Ennio Bolognini's 'Echo Serenade'. Dr. Foy's brilliant student, 13 year old 'Sam the Piano Man' will perform his own pieces and the students of Marie Scheerer will offer an interpretation of Dvorak's Songs 'My Mother Taught Me' in addition to Deborah Johnson, our Gospel singer who will be featured with the Victory Outreach praise dancers. A surprise guest artist will dance several tributes to the memory of Michael Jackson.
This will be a dynamic evening of talent long to be remembered and not to be missed!! Besides, your presence will be financially rewarding to sustaining this inner city youth performing arts program!!
Please contact Jubilee Youth Program/Concert Series Director Trudy A. Magee at 323-455-1199 for a detailed brochure of their outreaches and information on buying a table (sell your crafts/CDs/etc) to help the cause to support this performing arts program. (Tax Deductible!) Continue Jubilee's 12 year legacy within the community - with the cuts in California's youth programs, it is a critical time to now support this worthy program for the underserved communities.
This program is supported by Supervisor Mark Ridley Thomas and Senator Curren Price.
---
SEPTEMBER 27, '09 Yom Kippur Eve Religious Services 6 pm Service/9 pm Service - Skirball Cultural Center - CONTACT: Stephen S. Wise Temple 310 - 476 - 8561

Enjoy the High Holidays Yom Kippur Eve services, at the beautiful Skirball Cultural Center with soloist Cantor Nathan Lam and 'cellist Dr. Janice Foy. Parking is available in the Skirball garage but tickets for the services must be bought through the Stephen S. Wise Temple office. (see above phone number)
The Skirball Cultural Center is located at 2701 North Sepulveda Blvd., in Los Angeles.
Call now to reserve your spot - these services sell out, especially so with the outstanding musical performers who will also be joined by a dynamic choir and organist.
---
FALL 2009 PBS Documentary, EMPIRE OF THE WORD

There will be more information forthcoming on the Canadian-based PBS documentary, "Empire of the Word" that will feature Dr. Foy's string quartet, The New American Quartet performing the "Fourth Brandenburg Concerto", by J. S. Bach in Fall of 2009. The film's research focused on the preservation of manuscripts and other types of historical documents. If the documentary cannot be viewed in the U.S., then Dr. Foy hopes to put on a clip of her quartet's performance on her website once that is approved by the Canadian documentary team.

PAST PERFORMANCES!!
---
Los Angeles Seoul Chorale and Instrumental Ensemble, Director Dr. Jeong Jin

Dr. Jeong Jin conducted the Los Angeles Seoul Chorale in a special program honoring the 105th Anniversary of the Korean United Methodist church.
The program took place May 31, 2009 at 7 pm, at the church located on 7400 Osage Ave, in Los Angeles, just off the 405 freeway at La Tijera. It was a free admission program featuring the Los Angeles Seoul Chorale Instrumental Ensemble and various vocal soloists performing: Vivaldi's Gloria, and music by Mozart, Gaither, Handel, Barrett and others. Dr. Foy was featured solo 'cellist in a movmement of the Vivaldi.
Stay tuned for future performances by the Los Angeles Seoul Chorale and Instrumental Ensemble.
---
West Los Angeles Symphony, Maestro Sir Angel Romero
The West Los Angeles Symphony presented a rather musically spicy evening program under the baton of Sir Angel Romero to a sold-out audience March 29, 2009 at Royce Hall, on the UCLA campus.
Dr. Foy had several solos throughout the evening and the audience also enjoyed hearing the phenomenal voices of baritone Jose Adan Perez, tenor Diego Torre and Nefretiri Romero, wife of the conductor. Sir Angel Romero came out to solo on guitar in the famous Rodrigo Guitar Concerto, which of course bought the house down.
The next concert of the West Los Angeles Symphony is unfortunately not until next year which is certainly worth waiting for!
---
World Music Days: Tribute to Pavarotti & Daniel Pearl $15 general admission, $5 for students, staff and seniors Date: 10/12/2008
Ventura College Theatre is located on Loma Vista Road on the north side of the campus, other side, (from the official address which is 4667 Telegraph Road, Ventura 93003) from Telegraph Road. Parking is available in the West lot next to the Theatre.
Phone 805-654-4662 Marketing Office More Info here
---
Korean Independence Celebration Friday August 15 at 3700 Wilshire Blvd. and Serrano at 7 pm. The L.A. Philhamony Orchestra with Maestro Jae Kyung Lee in music by Weber, Dvorak, classic pops with choir and soloists, including Korean folksongs.
---
West Los Angeles Symphony Annual Free Concert!
Royce Hall, UCLA, SUNDAY April 13 7 p.m.
Angel Romero, Guest Conductor
Jens Lindeman, Trumpet
Angel Blue, Soprano
Please come and enjoy a really fun program under the baton of the fantastic guitar virtuoso, Angel Romero!! Your favorite Doc Foy will be sitting Principal Cellist for this yearly concert by the West L.A. Symphony. The program: Abu Hassan Overture by Carl M. Von Weber; Trumpet Concerto No. 1 by Johann Hertel; "Let the Bright Seraphim", from Samson, by George F. Handel; "Song to the Moon", from Rusalka, by Antonin Dvorak; Gustav Holst's Jupiter from the Planets; L'Arlesienne Suite No. 2 by Georges Bizet, Musetta's Waltz "Quando m'en vo" by Giacomo Puccini and the Carmen Fantasy for Trumpet and Orchestra by Frank Proto
---
Come and enjoy the musicmaking of the Masters' College orchestra and choir under the direction of Dr. Paul Plew and Dr. Steven Opfer this Friday April 11 at 7:30 p.m. It is a free concert. The performance will be of Mendelssohn's Elijah.
Hall of the Crucifixion & Resurrection Tickets: Free - call music office at College Directions to Glendale Forest Lawn's Hall of the Crucifixion Exit Golden State[5] at Los Feliz Blvd East to S. Glendale Ave, go South (right), turn Left into Main Gate of Forest Lawn (Cathedral Drive), follow signs to Hall of C & R stay left of the 134
---
SGI-USA presents M U S I C F O R P E A C E Sunday March 9, '08 2:00 p.m.
I would like to tell everyone that missed the Ikeda Kings Orchestra World Peace concert on March 9 that the audience went totally crazy with joy, excitement and appreciation for all of the different musical offerings. The New American Quartet's Nat King Cole Medley, by our fabulously talented arranger, Shelly Cohen received a hearty 'thank-you' with a standing ovation (our first!). We bowed many times to a capacity crowd of 1,200 in the house! Did I mention that the surprise guest artist was the Grammy ('08) winning artist Herbie Hancock who performed his own piano solo just before the New American Quartet and the Ikeda Kings Orchestra, led by saxophone virtuoso, Bennie Maupin, played the beautifully tranquil "Transitions" by Sherisse Rogers!?! Again, more enthusiastic applause. Just coming into the building the audience went wild over Herbie!
I thought that since our guest, the famous Mr. Hancock was a busy recording performing pianist he would say goodbye to all and then take off for more engagements. WRONG! He went from his piano bench on stage to the audience, sitting squarely directly in front of me, yours truly! At that point, Doc Foy was the soloist for Echo Serenade! I ripped into that flamenco number with such gusto that I even surprised myself, and my 'cello, Mr. Kiwi. After the twirl of my 'cello and the ole! at the end, I was again surprised by a boisterous round of standing audience members. I am still on cloud 9 and will be I think for the rest of my life.
Thanks to you Maestro Maupin for giving my Quartet and myself the opportunity to share in your A-1 music-making and spiritually very uplifting event for World Peace. It was truly a day never to be forgotten. Great musicians, appreciative audience, and all for global peace.
THE IKEDA KINGS ORCHESTRA Conducted by Bennie Maupin, Musical Director with special guest ensemble, the New American Quartet showcasing violinists Leola Wagner and Madeleine Eaton; violist Cliff Goodrich and 'cellist Dr. Janice Foy.
The featured piece is "Transitions for Big Band and String Quartet" by Sherisse Rogers. Shelly Cohen's arrangement of Nat King Cole Medley will be performed by the New American Quartet. The medley consists of: Stardust, Hoagy Carmichael/Mitchell Parish ('57); Smile, Charlie Chaplin/John Turner & Geoffrey Parsons (in the movie, Modern Times); Mona Lisa, Ray Evans/Jay Livingston ('50) (in the movie, Captain Carey); Tangerine, Victor Schertzinger/Johnny Mercer ('41) and Unforgettable, Irving Forden/Nat King Cole ('51). In addition to this there will be big band jazz music to highlight the Ikeda Kings Orchestra plus a flamenco styled 'cello solo by Dr. Foy in Ennio Bolognini's "Echo Serenade!
This is a FREE concert at the World Peace Ikeda Auditorium - 525 Wilshire Boulevard, Santa Monica, CA 90401
About the New American Quartet:
The New American Quartet was founded by Dr. Janice Foy, 'cellist, in 1994 (after the Northridge earthquake!), the year they premiered a cross-cultural work for Middle Eastern Oud & Strings with virtuoso soloist, John Bilezikjian. Since then they have done Master Classes, school assembly concerts & made appearances on College campuses; England and West Wales Tour in '97; cross-cultural concerts at Carpenter Hall & Cal Poly Pomona (So. Indian); TV appearances on Friends, Seinfeld & Pearl; concerts for the Sierra Club & Diplomatic circles; programs for the Sierra Club, Westlake Village Cultural Foundation, fundraising efforts for the Crippled Children's Society, and the Huntington Memorial Hospital; special concerts at the Braille Institute, Los Angeles Piano Club, Rose Garden of Exposition Park for Mother's Day; Kaiser Permanente and NEH grant lecture/demos for the 'Mozart Effect' at CSUN Cultural Center and the Baldwin Park Performing Arts Center; various concerts at the Motion Picture and TV Home, plus an invitation from Princess Cruises to open the Dawn Princess Line. The Quartet gave the premiere of the George Washington Quartet instruments for the Centennial of Forest Lawn, Hollywood in 2006 to a sell-out crowd. Their CD, "A Nod to Moussorgsky" is available at the Bravo! L.A. website: http://www.bravo-la.com Longtime arranger to 'Doc Severinsen's Big Band' of J. Carson fame, Shelly Cohen, has been the quartet's "in-house" arranger since its inception, with over 100 arrangements.
Bios of the New American Quartet members and their arranger S. Cohen:
Shelly Cohen arranger, composer, conductor, has for more than 25 years been a part of the American musical scene. Educated at Brooklyn College & at the Juilliard School of Music, Shelly became the Assistant Musical Director for the Tonight Show starring Johnny Carson & remained so for 30 years until Johnny's '92 retirement. Other T.V. programs include: Music Coordinator for the Emmy Awards & the Today Show's "Reflections of Irving Berlin & Richard Rodgers;" writer/producer of two Christmas Specials for NBC, "Christmas With Friends" & "Noel." Shelly has been the Guest Conductor for the Los Angeles Pops, Virginia Pops & the Pasadena Pops orchestras.
In 1992 he formed the New Horizon Singers, an 80 voice choir which appeared at "Concerts in the Park," the "Warner Center" & in 1995 they opened Pepperdine University's Winter Concert Season at the Smothers Theater. He's also the founder/conductor of the Pacific Pops Orchestra where his vision was to gather a group of versatile musicians to perform different styles of music, from Classical to Pops. Many compositions have been published & he has produced/recorded albums for various companies. Two of these albums were nominated for Grammys. His publications are with leading musicpublishers: Warner Brothers, Belwin Mills, North American Liturgy Resources, Gentry Music, Alfred Music & the Oregon Catholic Press.
Founder, Cellist Janice Foy, Ph.D.
Called a 'gem of a 'cello coach' by actor Samuel L. Jackson, Montana-born 'cellist and pianist Janice Foy shares her gifts through performance and teaching. She received a special "Commendation from City Hall" for having championed American music globally, reflecting her goodwill tours abroad, multi-ethnic collaborations with Koreans, Croatians, Romanians, Germans, Polonia, and a Command Performance before HRH Prince Bandar bin Sultan. Dr. Foy has recorded music for & appeared on "Friends", "Seinfeld","Alias", Disney's "What about Brian?", consulted for "ER", and served as a guest artist/lecturer on radio stations & college campuses. Her New American Quartet recently premiered the George Washington Quartet instruments to a sell-out crowd at Forest Lawn, Hollywood Hills and subsequently, was hired by them to be their "in-house" ensemble. Promoting afterschool string programs and school assembly concerts, making musical excursions to hospitals, teaching/coaching young people, and serving as Principal 'cellist in various orchestras, including the West L.A. Sym., L.A. Pilgrim Orch. and the Pacific Pops Orch., are some of her many accomplishments.
Janice earned her BA and MA in Music, 'with Distinction', from C.S.U.N and in 1990 she received a Ph.D. in music from UCLA, where she specialized in Ethnomusicology. As founder/director of Bravo! L.A., an umbrella organization for her ensembles, Dr. Foy offers a treasure trove of string music for the L.A. area in a multitude of styles for all of life's occasions! Dr. Foy hopes to organize a music school for the underserved who have no way of obtaining musical instruments nor have the funds to study music lessons with a professional teacher. The school would be centered in L.A. with satellite campuses around the world. A multi-ethnic globally organized orchestra would bring all the schools together at various times throughout the year. This school would build musical bridges to all cultures regardless of race, creed, color, or economic plight. The overriding focus would be to learn music, make music with your neighbor and then share it globally. Recently Dr. Foy recorded the music of Lalo Schifrin for the newest Jackie Chan movie, Rush Hour 3 at Sony and Fox studios. Dr. Foy accepted the Principal 'Cello position in the L.A. Phiharmony Orch. under the leadership of Maestro Jae Kyung Lee. Her 'cellistic skills were welcomed into the Kol Sephardic Choir by founder Raphael Ortasse and Maestra Erica Tannen where she jams with acclaimed violin virtuoso Hubert Pralitz, pianist Inna Royter, drummer Barry Saperstein, and wind doubler Dr. Robert Vinson. Dr. Foy looks forward to many more collaborations with Bennie Maupin following the Ikeda Strings World Peace concert, March 9. She has also collaborated with Flamenco dancer Jani Quintero for many ethnic organizations and will be starting up a new Violin/Cello duo with violinist Hubert Pralitz.
Violinist I, Leola Wagner
Leola Wagner, Violin I, was a protege of Josef Piastro, attended USC, & was an honor scholarship student at L.A. City College. She was Concertmistress & featured soloist with the Nevada Valley Orchestra, Sinfonietta Strings, the New Valley Symphony & Committee on the Arts Orchestra. As a young violinist she appeared on the Artists of the Future show and subsequently performed under: Metropolis, Heller, Strelitzer, Rachmilovich, Yanni, & Mauceri. Tours have been throughout California & Nevada with performances at major universities, stage shows, radio, the Los Angeles Ford Theater & the Carson Show.
Ms. Wagner has been a guest artist on cable TV & performed as soloist on the TV show JAG. She served on the New Valley Symphony Executive Board. Ms. Wagner is a pedagogue with a private music studio & she is busy as a freelance recording artist, chamber/orchestral musician here & abroad. Her recent posts as Concertmistress include the Pacific Pops Strings, the Pacific Pops Orchestra & Mesto, in which she led the group in a Command Performance for HRH Prince Bandar bin Sultan, '03, Beverly Hills. With Mesto Ms. Wagner toured Egypt and Jordan performing at their Opera Houses and for the Royal Community Center in Amman and the Amphitheater in Jerash.
Guest Violinist II Madeleine Eaton (sub for Sharon Cooper)
Violinist Madeleine Eaton has performed in the United States, Europe and Australia. While a student at the Mozarteum in Salzburg, she soloed with and played in several orchestras including the Universitätsorchester Mozarteum, the Junge Philharmonie Salzburg and Salzburger Hofmusik. An accomplished violinist in both the classical and jazz idioms, Madeleine has performed with the Nick Mancini Collective, the Richard Glaser Trio and in the Pasadena Jazz Institute, where she has also taught jazz violin. Madeleine is currently in the Rio Hondo Symphony.
Violist, Cliff Goodrich
Cliff Goodrich studied violin and viola at University of Nevada, Reno, where he was principal violist of the Reno Chamber Orchestra and played backup to many celebrities in the area's casinos. He came to Los Angeles to study with Myra Kestenbaum. After developing an interest in early music, Mr. Goodrich played in the Los Angeles Baroque Orchestra, Musica Angelica, and the Collegium San Diego. He has also been a participant in the Amherst Early Music Conference, Albuquerque Baroque, and Early Music Prague. He is finishing a Master's degree in violin performance at California State University, Long Beach, where he studied with Phillip Levy. Mr. Goodrich is also a student of Elizabeth Blumenstock on Baroque violin.
---
Saturday February 9 - 2 p.m. at Rhoda Tuit's residence - 2601 Pearl St., Santa Monica 90404. Please RSVP to Dr. Foy, 818-892-8737 Studio. $5 admission which includes a post concert reception and dialogue with the artists! The Dominant Women's Club, a professional women's musical organization since 1906, will be featuring the music of Pauline Delmonte with soprano Lynda Sue Marks-Guarneri and 'Cellist DR. Janice Foy, accompanied on piano by Fern Fay. Also, Dr. Foy will perform with dancer Jani Quintero in various numbers including Ennio Bolognini's Echo Serenade, and popular Latin favorites Besame Mucho, Malaguena, and Bizet's Habanera!
---
News Flash ! ! !

Violinist Hubert Pralitz and 'Cellist Janice Foy were recently the guest soloists at Hollywood's Hope Lutheran Church on Family Day, December 30 during their morning service. The violin/cello duo performed Ciacona by Prinus Dietze. Pralitz and Foy are gearing up many full-length programs to take overseas in the upcoming months. Stay tuned for more on this dynamic Duo!!
---
Kol Sephardic Choir presents an evening of Sephardic Romanceros. Janice is the newest member to join the Kol Sephardic Choir instrumentalists.
Please join us Thrusday, December 6th, 2007 at the Will & Ariel Durant Branch Library 1740 Sunset Blvd, LA, 90046 at 6:30pm. Visit their website for additional information: www.kolsephardicchoir.com

---
The L.A. Phiharmony Orchestra with Maestro Jae Kyung Lee, will present a concert on Sunday Nov. 11 at 7 pm at the World Vision Church located at: 19514 Rinaldi St., Northridge 91326 The program is FREE!!!! and parking is very accessible. The Saint Paul Oratorio by Felix Mendelssohn is the main work and the featured Korean artist for the evening is Dr. DongSuk Kim, professor of Korean music, at UCLA. He will perform on the gayageum a traditional Korean zither-like string instrument with 12 strings.
---
High Holy days of Stephen S. Wise Temple:
Dr. Janice Foy was the 'cello soloist for Yom Kippur Eve, Friday Sept. 21 at the Skirball Cultural Center located at 2701 No. Sepulveda Blvd. Services were at 6 p.m. and 9 p.m. Cantor Lam sang for both services accompanied by organist Shaun Kirchner. Janice also played 3 services on Yom Kippur day in the Westwood Sanctuary of Stephen S. Wise Temple located at 15500 Stephen S. Wise Drive in Los Angeles. Saturday September 22, 8:30 a.m.;11:45 a.m. and again at 4:15 - 7 p.m. Again, Cantor Lam sang.
He is O'Kai with us!!! Introducing Kai Gross!!
In September of '07 members of the New American Quartet, with an added bassist, recorded several music cues for Manhattan composer Kai Gross. The demo recording took place at Local 47's recording studio. Our engineer for the afternoon was Vince Tividad who did a great job in pointing out where we could improve a passage here and there and who prepared everything for us at the Studio and who eventually sent everything onto Kai in New York.
The New American Quartet recorded 5 2 - 3 minute cues as part of Mr. Gross' entrance exam for a College of his choice in the New York area. Isn't it amazing that he outsourced to L.A. for the expertise rather than use a musician out of Juilliard!
Our assessment of Kai's music: Everything was really O ' Kai!! He is a fabulous composer who possesses all the traits of a true professional and a very kind human being. We shall soon have the cues up on the website so you can take a listen. Musicians who took part in this great event were: Leola Wagner and Sharon Cooper, violins; Matt Nabours, viola; Janice Foy, 'cello and last but not least, Shane Harry on double bass!!!
About Kai: Kai Gross grew up outside Philadelphia, but now lives in Park Slope, Brooklyn. He has studied music and composition (among other things) at Williams College, Berklee College of Music, and New York University. In addition to his compositions for string orchestra, he has written music for the Reuters TV news series "And Finally" and scored several award-winning short films. He also teaches music at Columbia Preparatory & Grammar School in Manhattan. He's hoping to use the demo recording in his application for graduate studies in composition and film scoring. He is leaning towards applying to the Masters program in composition at NYU, where you can specialize in Film & TV scoring, and possibly the USC certificate program in Film Scoring. The school I work at is called Columbia Grammar & Preparatory School.
---
Daniel Pearl World Music Days
SGI-USA Presents The American Victory Orchestra Conducted by Patrick Scott 'Handel to Hancock' Program, with an international flavor, includes: Handel, Bach, Lauridsen, Puccini, Lara, Mozart, Falvo/Schubach, Hancock.
Sunday • October 7, 2007 • 2:00pm at the World Peace Ikeda Auditorium 525 Wilshire Boulevard Santa Monica 90401 Free parking in structure behind 7-11 on Wilshire and 7th Street.
Admission Free
Featuring Soprano Elise Richel and Special Guests:
Loyola Marymount University Consort Singers, with Dr. Mary C. Breden Flamenco Dancer Claudia De La Cruz , John Simpson, guitarist, & Co. Soka University Indian Dance Club 'Ghungroo' Dr. Miri Hunter Haruach, Original Songs with the Tar
Also Enjoy 'From a Culture of Violence to a Culture of Peace: Transforming the Human Spirit' Exhibit in the Lobby
Visit www.musicdays.org for more information • 818-992-8342 or 818-591-0679 • avorchestra@earthlink.net
---
Janice will help say farewell with Mr. Kiwi! (Mr. Kiwi, her New Zealand Cello! made by the genius of Graeme Thatcher)
On Sunday August 26, '07 there will be a farewell party for the Hollywood Professional School. The "farewell" is a little late--the school closed in 1984. However, the building has now been razed in readiness for new construction. The Champagne Party, 2-5 p.m., will be held on that site, 5400 Hollywood Blvd., at the corner of Serrano. A time capsule will be dedicated commemorating the school and its students. Alumnus Robert Granite is organizing, and alums wishing to attend should contact him at hpssiteparty@yahoo.com. Former SAG President and alumnus Barry Gordon will officiate. Among the tales they'll probably recall is how Errol Flynn would deliver and pick up his (very young) girlfriend Beverly Aadland at school--but across the street in the alley. The school, which bowed in 1935, includes among its alumni: Natalie Wood, Connie Stevens, Peggy Ryan, Tatum and Ryan O'Neal, Donald O'Connor, Judy Garland, Betty Grable, Karen Sharpe, Linda Blair, Jimmy Boyd, Annette Funicello, Melanie Griffith, Jil St.John, Val Kilmer, Mickey Rooney and hundreds of others.
---
May I suggest to you Rush Hour 3 with the great Jackie Chan and the very funny, Chris Tucker. The DIRECTOR is Brett Ratner who also did the other two Rush Hours.
I saw it at Graumsn's Chinese Theater and only paid $2 for a 4 hour validated parking. Admission is $12.75 plus a $2 surcharge, for adults at Grauman's and less for Seniors. The movie is short - 1 1/2 hours long. I would suggest getting your ticket in advance online and then bring the card you used to buy it online to the Theater to get your ticket! No waiting.
You will love the film if you like a lot of laughs interspersed with great action and much drama. LAPD detective James Carter (Chris) and Chinese Chief Inspector Lee travel to Paris to battle a wing of the Chinese organized crime family, the Triads, situated in France. The French cab driver turns out to 'save the day' on many occasions - and he really wants to be an "American spy" so he can "kill for nothing" like the US did in Vietnam and Iraq - a bit of a jab to our foreign policy!
Lalo Schifrin is the mastermind behind the exciting musical support that propels the action even more than you see on the screen. I just wish the mixers would have given more presence to the music as I had to stuff my ears with kleenex during the loud promos and of course, the loud sound in general throughout the movie. Now I remember why I don't miss going 'to the movies' but of course made an exception here since I was one of 8 'cellists in the Rush Hour 3 orchestra which recorded at Sony then at Fox studios.
Now go out and enjoy it!
---
Semel Institute Noontime Concert Series Presents: Music Gypsies Love!

Geoffrey Aymar, piano; Leola Wagner, violin and Dr. Janice Foy, 'cello

WHAT: This free noontime concert sponsored by the Semel Institute for Neuroscience and Human Behavior at UCLA will feature: Geoffrey Aymar on piano; Dr. Janice Foy (alum!) on 'cello and Leola Wagner, on violin. The Cello and Violin Duo will perform Hungarian Gypsy music; Geoffrey will perform some of his own compositions; Dr. Foy will feature a solo 'cello flamenco piece by Ennio Bolognini; then Dr. Foy and Mr. Aymar will treat everyone to a special rendition of Summertime and the whole trio will join for a grand finale of a Tango by David Schubach, the former Vice President of the Professional Musicians Local 47.

WHEN: Noon to 1 p.m. on Friday, June 29.

WHERE: The Louis Jolyon West Auditorium, C-level of the Semel Institute for Neuroscience and Human Behavior, 760 Westwood Plaza, UCLA campus.

BACKGROUND: Semel Institute Concert Series events take place several times throughout the year and feature professional artists, senior and graduate level music students, and musicians from UCLA's professional staff. The first concert each year is held in honor of the late UCLA psychiatrist Dr. Faustino Lopez-Rodriguez.

COST: The concert is free!! Parking on campus is $8.

INFORMATION: Sandra Dewar, (310) 794-9528; sdewar@mednet.ucla.edu.

MEDIA CONTACT: Mark Wheeler, (310) 794-2265, mwheeler@mednet.ucla.edu

ABOUT THE ARTISTS: Geoffrey Aymar, pianist, In the competitive world of the Los Angeles music scene, pianist and composer Geoff Aymar has successfully carved a niche for himself for over twenty years. He's been playing some of the finest hotels, clubs, and exclusive private events in Los Angeles and his long tenure at a number of venues is a testament to his musicianship and his loyal following.
Originally from Connecticut, Geoff studied jazz guitar privately while also playing in various rock/pop bands as a teenager. His interest in improvising and composing music of all genres was his passion from the beginning. Upon being accepted to the prestigious Berklee College of Music as a guitarist, Geoff switched over to the piano which he had already begun teaching himself. After a short stay in Boston, Geoff moved to Los Angeles and landed his first steady gig just four days after arriving. Since then he has been making a living playing music five to seven nights a week at top establishments such as The Beverly Hills Hotel, The Beverly Wilshire Hotel, The Fairmont Miramar and the Four Seasons.
His first two jazz CD's of standards with his trio (Geoffrey Aymar Trio Vol. One and Vol Two) received solid reviews and airplay on KLON (KJJZ) and a number of other stations around the country. Geoff has performed internationally at the La Plata International Jazz Festival in Argentina as well as the Grand Formosa Regent in Taipei, Taiwan. His composing has included the satirical song "Me" sung by Meryl Streep that opened the movie "Death Becomes Her" as well as commercial pop songs and instrumental jazz and theme songs for various TV/internet projects.
"Can't Stop Now" on Rigamarole Records is Geoff's first all original CD which features renowned guitarist Larry Koonse, bassist David May and drummer Kendall Kay. It is a melodic brew of smooth Bossa Novas, evocative ballads and toe tapping blues thrown into the mix. It was produced by legendary producer/engineer Malcolm Cecil (Stevie Wonder, Gil Scott Heron). "Can't Stop Now" is available online at CDbaby.com/geoffaymar and can also be found on various downloading sites such as Itunes.com
Over the years Geoff has played with some of the finest jazz musicians in Los Angeles including Eugene Wright (Dave Brubeck), Johnny Kirkwood (Louis Jordan, Dinah Washington), Larry Koonse, Luther Hughes (Gene Harris), Al Mckibbon (Thelonious Monk), Ron Eschete, Andy Simpkins (George Shearing, Gene Harris), Kendall Kay, John Pisano, Paul Kriebech, Robert Kyle, Frank Potenza among many others. The list of people Geoff has performed for make up a "who's who" of the entertainment and political world, from Arnold Schwarzenegar and Elizabeth Taylor to England's Prince Andrew and William F. Buckley Jr. and for the Bohemian Club.
Geoff continues to play a long running gig with his trio every Sunday for brunch in the Polo Lounge at the Beverly Hills Hotel. Producer Malcolm Cecil says "Geoff Aymar is an extremely talented musician with a beautifully melodic, sensitive yet always swinging style whose compositions have a mysterious, haunting quality that reaches out and touches the soul".
Leola Wagner, Violin, was a protege of Josef Piastro, attended USC, & was an honor scholarship student at L.A. City College. She was Concertmistress & featured soloist with the Nevada Valley Orchestra, Sinfonietta Strings, the New Valley Symphony & Committee on the Arts Orchestra. She performed under Metropolis, Heller, Strelitzer, Rachmilovich, Yanni, & Mauceri. Tours have been throughout California & Nevada with performances at major universities, stage shows, radio, the Los Angeles Ford Theater & the Carson Show. Ms. Wagner has been a guest artist on cable TV & performed as soloist on the TV show JAG. She served on the New Valley Symphony Executive Board. Ms. Wagner is a pedagogue with a private music studio & she is busy as a freelance recording artist, chamber/orchestral musician here & abroad. Her recent posts as Concertmistress include the Pacific Pops Strings, the Pacific Pops Orchestra & Mesto, in which she led the group in a Command Performance for HRH Prince Bandar bin Sultan, '03, Beverly Hills. Ms. Wagner premiered the George Washington Quartet instruments with the New American Quartet (Violin I), for the Hollywood Hills Forest Lawn Centennial, February 26, '06. This summer Ms. Wagner will leave on tour with the Multi-Ethnic-Star Orchestra, co-founded by Dr. Foy, for a concert tour of Amman Jordan and the Jerash Festival.
Called a 'gem of a 'cello coach' by actor Samuel L. Jackson, Montana-born 'cellist/pianist Janice Foy, Ph.D., has performed globally, championing American music & will do so with ASCAP composer Larry Mumford's Rhapsody. She gave West Coast premieres of sonatas by Ginastera & Overton with pianist Zita Carno, formerly with the L.A. Philharmonic & with whom Dr. Foy formed, "Trio of the Americas." Clarinetist William Powell joined them for concerts throughout California. In Croatia, Janice gave 'goodwill' concerts in the Dalmatia/Zagorije areas & finished her Ph.D. research, "The Croatian Sacred Musical Tradition in Los Angeles - History, Style and Meaning." She holds Principal 'cello chairs in various orchestras (W.L.A. Sym. & others) & is a tenured 'cellist with the Glendale Symphony. Dr. Foy has recorded music for & appeared on TV (Friends, Seinfeld, Alias); consultant for ER; guest artist on all radio stations, & she has lectured at CSU Bakersfield, UCLA, CSUN, Cal Poly Pomona, the Masters College & APU. She has won many awards/grants as 'cellist & pianist, an NEH Affiliate Grant for research on the 'Mozart Effect' & she was the GSO orchestral delegate '05 for the A.C.S.O.
In 1997 she was awarded Special Commendation "for her musical contributions" from the L.A. City Council. Dr. Foy gave 63 concerts in the GUSD for the GSO Womens' Committee. She has a Masters' in 'Cello Performance (CSUN) with Honors & a Ph.D. in Ethnomusicology, UCLA. She's on Executive Boards for the L.A. 'Cello Society; USC's Friends of Polish Music; & directs the String Scholarships for Phi Beta's Pi Iota Chapter. Her Bravo! L.A. ensembles were funded through the L.A. Cultural Affairs, the L.A. County Arts Commission, & the Recording Industries Music Performance Trust Funds. From '01-'03 Dr. Foy was the Glendale Brand Library's Music Coordinator.
She performed Ennio Bolognini's "Echo Serenade" in a Command Performance for HRH Prince Bandar, Saudi Ambassador to the U.S., Sept. '03. Her paper, "From the Pampas to the Bullring: 'Cellist-Conveyor of the Tradition!" was chosen for College Music Society's Intl. Meeting, Madrid, Spain '05 & debuted at Disney Hall in '07 under Manhattan Concert Prod. Mgmt. with Maestra Doreen Rao. Her New American Quartet premiered the George Washington Quartet instruments to a sell-out crowd in '06, Forest Lawn, Hollywood & for former Pres. J. Carter. '07. Dr. Foy has recorded movie music for John Williams, Lee Holdridge, Bruce Broughton, Maurice Jarre and most recently for Lalo Schifrin (Rush Hour 3, with Jackie Chan).
Plans are in the air for Dr. Jihad Racy's Middle Eastern Orchestra (UCLA organization), to premiere Mr. Mumford's Concerto Rhapsody for Solo Cello in 2008, co-conducted by Dr. Sami Asmar.
CD's of the New American Quartet, the Ascending Wave, Gypsy Gold, and others, are available online at Dr. Foy's website for Bravo! L.A., www.bravo-la.com and you may email for your orders at musicalmenace@earthlink.net
---
Special world premiere of Leonard Bernstein's Mass in a Choral Suite rendition at Disney Hall, June 9, 2007 at 7:30 p.m. Dr. Foy also makes her debut appearance in Disney Hall with the Windsong Chorale Orchestra.
Manhattan Concert Productions presents: The National Festival Chorus in a world premiere Choral Edition of the Leonard Bernstein Mass arranged by composer and conductor Doreen Rao, from the University of Toronto. Windsong Southland Chorale will also be part of the chorus of the MASS. Paul Harms will be one of the Mass soloists.
Windsong Southland Chorale will begin the concert with a solo performance presenting LUX AETERNA by Morten Lauridsen and ANTIPHON by Ralph Vaughan Williams conducted by Dr. Janet Harms and Kaori Cooke at the organ.
Also featured on this concert will be the St. Louis Children's Choir and renowned conductor from Michigan State University, Dr. Sandra Snow. Other pieces to be performed will feature works by David Brunner, Stephen Paulus and Francisco Nuñez.
Contact: Stephanie Campbell Director of Public Relations, Windsong Southland Chorale (909) 908-9378 stephanie@brightprospect.org
Ticket prices and locations available at Ticketmaster.
FRONT ORCHESTRA - GARDEN US $60.00 FRONT ORCHESTRA - STAGE US $60.00 ORCHESTRA US $50.00 TERRACE - WEST US $40.00 TERRACE - EAST US $40.00 TERRACE US $40.00
---
Windsong Southland Chorale
Dr. Foy joins the Los Angeles Camerata and Windsong Chorale in an exciting upcoming May 20th Concert!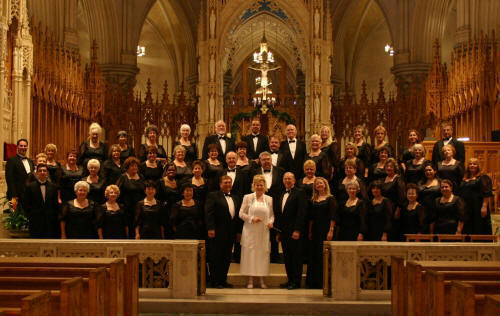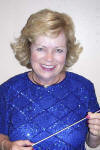 Dr. Janet Harms, Conductor of Windsong Southland Chorale
Windsong Southland Chorale and the Los Angeles Camerata May 20, 2007 at 4:00 p.m. Lewis Family Playhouse, Victoria Gardens Cultural Center 12505 Cultural Center Drive Rancho Cucamonga, CA 91739
Windsong Southland Chorale, founded and directed by Maestra Dr. Janet Harms, is in its twelfth season of performing locally, nationally and internationally. The Chorale, based in Ontario, has toured Greece, Scandinavia, Russia and Australia, while being a repeat favorite at Carnegie Hall. Dr. Foy will join the Los Angeles Camerata as their Principal Cellist, under Dr. Vincent Mitzelfelt, when they join forces with Windsong for a moving and memorable musical experience. This will be the fifth time that Windsong will collaborate with the Los Angeles Camerata, founded in 1973. The Camerata has performed nationally and internationally in Europe, Russia, Israel, and China. The featured work will be the stunning and ethereal Lux Aeterna by Morten Lauridsen, whose premier recording in 1998 garnered a Grammy nomination for the Los Angeles Master Chorale. Windsong Southland Chorale had the honor of giving this work's debut performance on the stage of Carnegie Hall in New York in 2003. Local audiences are in for a treat to hear this encore performance. Counterbalancing the modern tonalities of the Lux Aeterna will be Josef Haydn's Mass in Time of War, written in 1796 as Napoleon was advancing on Vienna, where it was to be performed. The opening and closing sections feature militaristic trumpet fanfares and tympani rolls that inject a hint of anxiety and desperation into the final soothing prayer for peace. (source: Wikipedia) Bridging the unique musical styles of Haydn's Mass to Lauridsen's Lux Aeterna will be Ralph Vaughan Williams' Five Mystical Songs. It was composed in 1911 and debuted the same year at the Worcester Three Choirs Festival. The first four songs are personal mystical meditations, while the fifth is a triumphant hymn. Mozart's Concerto for Flute and Harp will complement these choral works featuring flautist Judith Hopf.
Dedicated in 2006, the Lewis Family Playhouse is an intimate, 'state of the art' Performing Arts Center which showcases the best local talent. Don't miss this opportunity to see what the buzz is all about.
Advance tickets are $20, $17 for seniors, $10 for youth, and a special family price of $40 including parents and all children under 18. All tickets are $25 at the door ($45 for the family group). Call (909) 263-8488 to order tickets.
---
Janice will offer an international array of musical gems as solo 'cellist during the Saturday May 5, '07 event at the New Center for Psychoanalysis. Her CDs will be on sale there.
New Center for Psychoanalysis (NCP) in conjunction with MOCA's exhibition: "Wack! Art and the Feminist Revolution" (March 4th to July 29th at the MOCA Geffen Contemporary) and in collaboration with the Simms/Mann – UCLA Center for Integrative Oncology presents
BEYOND WORDS AND TIME WOMEN FIGHT CANCER THROUGH ART Opening Reception May 5th • 3:30 – 6:30 pm - New Center for Psychoanalysis • 2014 Sawtelle Blvd., Los Angeles Exhibit runs from April 30 to June 30, 2007 - Monday - Friday 10 am to 5 pm
This exhibition focuses on a contemporary feminist revolution — women fighting cancer.
Art making in a group setting makes the cancer experience more transparent for the woman with cancer, her family and other fellow patient-artists. The art expression also creates opportunities for healing, formation of a new healthy identity, greater control, spiritual quests, expression of unconscious fantasies and fears, and a way to mourn losses. The healing power of art is a complementary, active approach to illness integrated within traditional medicine. Art making is a powerful tool for self-expression and self-awareness and a cultural phenomenon that raises awareness of physical vulnerabilities.
With gratitude to the Melissa Kravetz Memorial Foundation Curator/Coordinator: Esther Dreifuss-Kattan, PhD
---
Dr. Foy to take part in roundtable discussions regarding the entertainment industry!

Entertainment Networking Night: Wednesday, April 11, 6 - 9 p.m. at UCLA James West Alumni Center

UCLA Alumni Entertainment Networking Night is a high-profile Student Alumni Association event that gives students the opportunity to learn about careers in the entertainment field by interacting with UCLA alumni in the industry. From actors, producers and directors, to writers, network executives, lawyers and more – this event offers a unique opportunity for students to converse with alumni professionals in an informal roundtable discussion.

Agenda:
5:45 p.m. - Alumni Check in, James West Alumni Center
6 – 6:50 p.m. - Alumni Reception/Dinner and Networking, James West Alumni Center
7 – 9 p.m. - Roundtable Discussions, Ackerman Grand Ballroom (Students will be free to move from table to table, mingling with alumni and asking questions about their various fields in the entertainment industry)
Complimentary parking will be provided in Lot 6 which is located on Westwood Boulevard, just north of Strathmore. UCLA campus map. A parking attendant will be present at the entrance to Lot 6, so it is not necessary to visit another kiosk beforehand. Simply mention to the attendant at Lot 6 that you are attending Entertainment Networking Night.
---
Janice will be one of several featured musicians on the new sitcom, The Wedding Bells, TBA, on channel 11 (FOX) at 9 p.m. The series creator is TV producer David E. Kelley, known for his legal dramas: Boston Legal, The Practice, and Ally McBeal.
---
Janice Foy will be the featured solo 'cellist for the upcoming fundraising event for the organization which has been helping developmentally challenged individuals for over 50 years - New Horizons will hold their gala fundraiser on Friday March 16, 2007 at the Ronald Reagan Library in Simi Valley. Dr. Foy will be the entertainment with a kaleidoscope of musical styles including music from various countries such as Korea, Croatia, Hungary, Romania, Spain, France, and of course, Americana tunes from the U.S.A! Janice looks forward to this special event since she feels music has all the ingredients necessary to elevate the soul and create hope and peace within each individual, no matter what seems to be ailing the mind and the body. Music is God's gift to all humanity.

Check their website to find out more about New Horizons
---
Janice Foy, with members of her New American Quartet, will be joining the Pacific Pops String Orchestra under the direction of Shelly Cohen, in this special event to benefit the Stagecoach Inn Museum. Here is the information for the March 18th show from the website for the Thousand Oaks Arts Plaza:
FROM THE SILVER SCREEN TO BROADWAY
Presented by The Stagecoach Inn Museum Foundation

Sunday, March 18th, 2007 at 2:30 PM

Janet and Ray Scherr Forum Theatre (Concerts)

The Stagecoach Inn Museum Foundation proudly presents "From the Silver Screen to Broadway" on Sunday, March 18, 2007 at 2:30 p.m. at the Scherr Forum Theatre in Thousand Oaks. The concert features The Pacific Pops String Orchestra under the direction of Shelly Cohen, The San Fernando Valley Male Chorus, The New Horizon Singers, Singer Talya Ferro and pianist John Rodby with music "From the Silver Screen to Broadway." All proceeds benefit The Stagecoach Inn Museum Foundation. This energetic local organization is a support group for The Stage Coach Inn Museum. This concert is the second in a series of events designed to entertain and increase public awareness of the Stagecoach Inn Museum Complex, and show its importance in our community.

Tickets: $30.00 are available at the Civic Arts Plaza Box Office in person, or visit Ticketmaster

Above ticket price includes $4.00 facility charge
---
On Sunday April 1, 2007 at 7 p.m., Royce Hall will be the venue for the West. L.A. Symphony Orchestra's Spring concert. Dr. Foy will continue as their Principal 'Cellist and the conductor will be Lawrence Leighton Smith one of America's most respected conductors! This is the maestro's first appearance with the West L.A. Symphony Orchestra. Bring your friends to this fantastic FREE concert.
Program: (co-sponsored and paid through the Music Performance Trust Fund)
Triumphal March, Aida - Verdi
English Dances, Set #1 - Arnold
Suite #1 for Variety Orchestra, Waltz #2 ONLY - Shostakovich
Ziegeunerweisen - Sarasate
Bacchanal from Samson & Delilah - Saint-Saens
Coppelia Suite #2, Selections - Delibes
Bolero - Ravel
Janice is the featured online artist for the Association of California Symphony Orchestras Newsletter, Summer 2006. ( www.acso.org click on page 4 for the interview).
---
Westminster Gardens, a retirement oasis in Southern California, has invited The Smetana Trio, members of Bravo! L.A., to perform for their monthly Wednesday concert series on February 7, 2007, at 3:30, in Packard Hall. Leola Wagner, violin, Louise King, piano and Janice Foy, 'cello will perform various works including, Hungarian Gypsy music for violin and 'cello; the Brahms Hungarian Rhapsody No. 7 for piano solo, Echo Serenade for solo 'cello by Ennio Bolognini and they will conclude with Bedrich Smetana's only Piano Trio.
The program is free and the address is: 1420 Santo Domingo Avenue in Duarte, CA 91010-2698 Tel: (626) 358-2569
---
Janice was the featured 'cello soloist for the High Holy Days for Yom Kippur Eve at the Skirball Cultural Center Sunday October 1, 2006 for both the 6 pm and the 9 pm services. (Stephen S. Wise Temple) The organist was Marylee Mistretta and the esteemed Cantor featured during the High Holy Day services was Cantor Nathan Lam.
Janice performed for Yom Kippur Day services at the Westwood Sanctuary of Stephen S. Wise Temple: Monday October 2 Services at 8:30 am - 10:45 am; 11:45 am - 2:15 pm and Yizkor/Neilah from 4:15 - 7 pm. The Stephen S. Wise Temple website should be checked for upcoming events.
From the premiere concert of the George Washington Quartet instruments at Hall of Liberty, Forest Lawn in the Hollywood Hills. February 26, 2006 with the New American Quartet, sponsored by the Glendale Symphony Orchestra.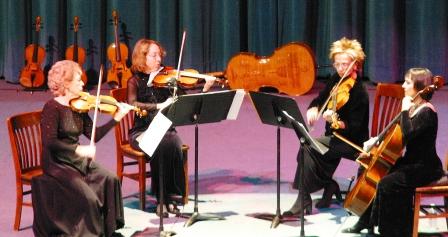 L-R: Leola Wagner, Violin I; Sharon Cooper, Violin II; Judy Garf, Viola and Dr. Janice Foy, 'cello. (George Washington quartet instruments are in the background!)
---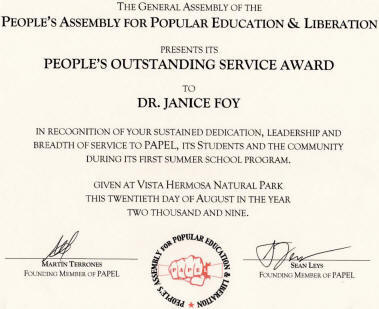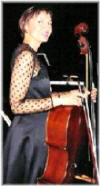 Dr. Janice Foy, Director formed Bravo! L.A. to act as an umbrella organization under which many of her ensembles might be found under one roof. These ensembles and solo performers may be hired for formal concerts, residencies, private and group lessons and special events. All the musicians in Bravo! L.A. teach their respective instruments in addition to other instruments and each ensemble may include special request music and medleys to reflect your unique occasion.
HRH Prince Bandar, Saudi Arabian Ambassador to the US, called her Command Performance "superb" in Beverly Hills, California in 2003. Dr. Foy is pictured on stage at the Redondo Beach Performing Arts Center following her concert as principal cellist with the Multi-Ethnic Star Orchestra (MESTO) in this 1400-seat venue on March 20, 2004, Redondo Beach, California.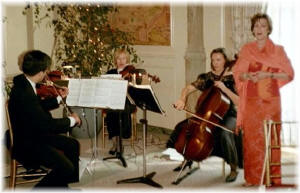 New American Quartet at the California Club on a job with Cesar Chicco, Leola Wagner guest violist, Sharon Cooper, Janice Foy and Camille King singer.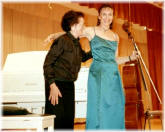 On stage at St. Anthony's Croatian Hall with pianist Kay Grantham. Played a medley of gypsy tunes from Russia, Hungary, Serbia, Croatia, Czechoslovakia, and Romania. June 25, 2002 11 years of independence.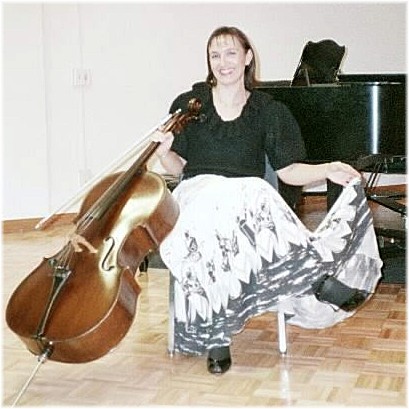 Los Angeles Violoncello Society December program at the Crossroads School, Santa Monica. I performed Echo Serenade, by Ennio Bolognini.


Special Commendation at City Hall On December 12, 1997 City Council President Pro Tem Joel Wachs presented Dr. Janice Foy with a 'Special Commendation for her musical contributions to society in the field of music' in a ceremony at City Hall Council Chambers. Janice was one of a dozen Music Week honorees including such notables as pianist/composer Lalo Schifrin, Maestro Mehli Mehta, pianist Daniel Pollack, and Local 47 Secretary Serena Kay Williams, and Diane Lauerman Arnold of the Music Performance Trust Fund, to name a few.

Dr. Foy with Lee Holdridge, Dr. Aurelio de la Vega & Dr. Robert Sage Dr. Foy's 1998 Faculty Cello Recital (Adjunct Professor) featured the music of Emmy-winning composer Lee Holdridge and the music of Cuban-born composer, Dr. Aurelio de la Vega. Dr. Foy presented her second faculty recital in 2000 with a lecture on 'Music's Magical Legacy - chant - the Mozart Effect and a little Ginasteria'. Research on music and the brain followed by a mini lecture and a full performance of Alberto Ginastera's Sonata for Cello and Piano, accompanied by Dr. Robert Sage and the Takahashi String Quartet (Mozart Effect demos) were featured.

Welcome Cardinal Kuharic Cardinal Franjo Kuharic, from the Croatian capitol of Zagreb, visited Los Angeles in the late 1980's. He was presented with the original manuscript of Dobro Dosli Kardinal Kuharic, (Welcome Cardinal Kuharic), for cello and piano by Conrad Pope. Dr. Foy performed the piece before the Cardinal at St. Anthony's Croatian Catholic Church and gave the original manuscript to Cardinal Kuharic.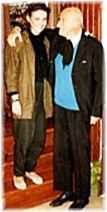 In Tribunj with Papandopulo Janice visited the village of Tribunj, Croatia, so that she may see where the renown Croatian opera composer and conductor Boris Papandopulo finished most of his musical works and also how life goes on in this little coastal town. Janice met the composer through his son, Damir, who so happened to be her third cousin's boss at Electra company, in Zagreb. Janice is a third-generation Croat who not only met this famous composer but she also was given a Solo Cello Rhapsody which Papandopulo wrote for her, still to be premiered. Her upcoming concert tour in Croatia may bring her more musical treasures of Croatia which she may add to her other previous visits.

Janice on the Air! Dr. Foy has done numerous broadcasts of music, interviews, and lectures on all major Los Angeles radio stations, Voice of America, Radio/TV Zagreb, Radio Bucharest, Cable TV, Televiza, and for the Dame Myra Hess Broadcast in Chicago.
Booking and contact information please e-mail us.
Copyright © 2000, GCCS, All Rights Reserved